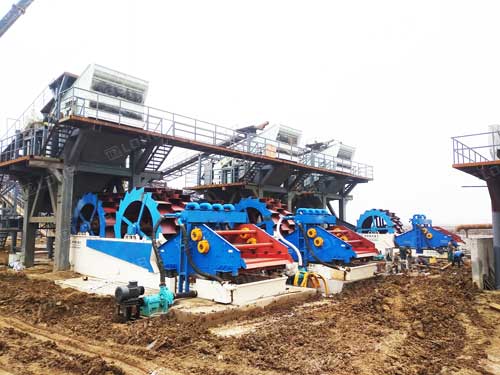 The double motor self synchronization technology, general eccentric block and adjustable amplitude vibrator are adopted in the vibration dewatering screen. It is mainly composed of screen box, exciter, supporting system and motor. Two unrelated vibrators operate synchronously and reversely. The centrifugal force generated by two groups of eccentric mass is superposed along the component force in the direction of vibration, and the reverse centrifugal force is counteracted, thus forming a single exciting vibration along the direction of vibration, making the screen box move in a reciprocating straight line.
Performance advantages of LDHB vibrating dewatering screen
1.The LDHB vibrating motor of quartz sand high-frequency vibrating dewatering screen is convenient to replace. The rubber spring on the base is used for shock absorption, so that the vibration amplitude is small and the vibration is slow, and can be removed cleanly.
2.It can be customized according to the output and water content. The side plate of the fuselage has a reinforcing plate, the bottom is equipped with a support, the bottom is equipped with a horizontal bar, and the outfall is supported by a triangular steel plate, which is thick.
3.The vibration motor is fixed with high-strength bolts and the bottom spring is rubber spring. The quality of the spring will affect the life of the vibration motor. The fixed density of the sieve plate is high, and the sieve plate is provided with reinforcing ribs.
4.After welding, the welder will strictly avoid welding holes, and the bottom will be supported by channel steel.
5.In addition, the mesh can be adjusted according to the needs, the equipment noise is small, and the dehydration effect is good.