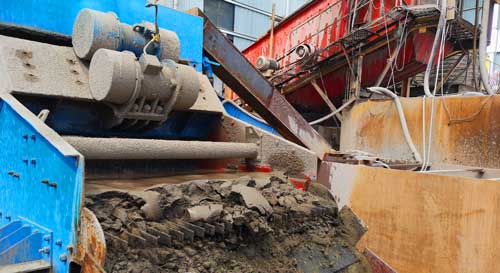 The main function of dewatering screen is dehydration, desliming and demineralization. It can be used for sand washing in aggregate plant, slime recovery in coal preparation plant and dry discharge of tailings in concentrator. The sand dewatering screen here is mainly used in the wet sand production line, and can be used together with sand washing machine or used alone.
How sand dewatering screen work?
Dewatering screen adopts double motor self synchronization technology, universal eccentric block and adjustable amplitude vibrator. It is mainly composed of screen box, exciter, supporting system and motor. The vibration exciter respectively drives two unconnected vibrators for synchronous reverse operation. The centrifugal force generated by the two groups of eccentric masses is superimposed along the vibration direction and counteracted by reverse centrifugation, thus forming a single exciting vibration along the vibration direction, making the screen box move in a reciprocating straight line.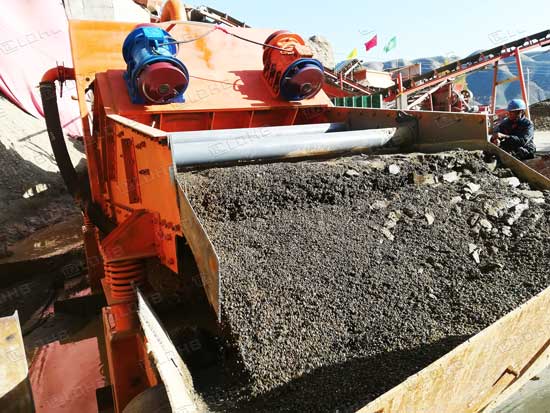 The feeding tailings are evenly fed into the inlet of the screen by the feeding box (or cyclone). Firstly, about 1 / 3 of the water is removed at the place where the discharge screen plate is installed at a 45 degree angle with the horizontal direction. After entering the joint of the plane screen plate and the inclined screen plate, the material accumulates, and the material particles settle by gravity, forming a thin filter layer. The filter layer prevents the other particles from passing through the screen, making the filter layer thicken gradually.
The water that fails to pass through the screen forms a pool at the upper part of the filter layer. Because the filter layer is thin here, the water gradually drops off under strong movement. Due to the vibration state of high frequency and low amplitude, the tailings forming the filter layer vibrate more and more densely, and vibrates to the discharge port. The material forms a filter cake. Except for part of the moisture removed from the screen surface, the rest emerges due to capillary effect On the surface of the material layer, due to the negative inclination of the screen surface, the water will not overflow from the discharge port, and the surface water will flow to the pool at the junction, thus completing the material dehydration.
LDHB dewatering screen is suitable for dewatering and dry discharging equipment of small particle size materials, such as fine sand, tailings and tailings. It has the characteristics of simple structure, low cost, high efficiency, low energy consumption, low noise and convenient maintenance.