LDHB Srew Sand Washing Machine is an important equipment to complete machine-made sand and natural sand washing operation, which is divided into single spiral sand washing machine and double spiral sand washing machine. It can wash away the trace stone powder and impurities in the mixed sand produced by the sand making mechanism and improve the quality of the sand. This series of sand washing machine is developed in combination with the actual situation of the international sand and stone industry. It has a fully closed transmission device with small power consumption, high cleaning degree, good sealing structure and adjustable weir plate, which ensures the efficient operation of the equipment. It is mainly used for washing, grading and dewatering of quartz sand and pressure sand for oil well backfilling in construction site, sandstone plant and glass plant.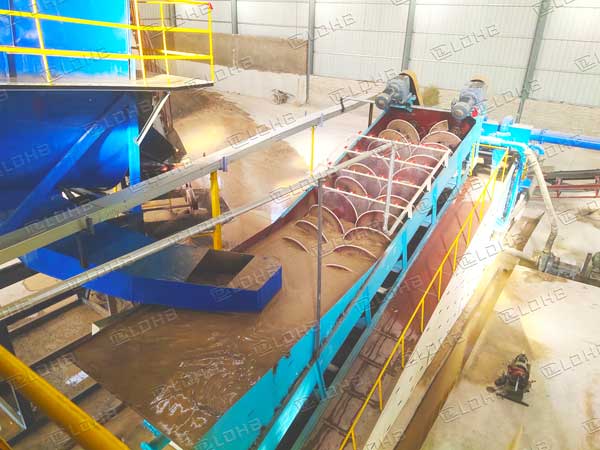 How to process silica sand ?
LDHB screw sand washer is based on the principle of different specific gravity of solid particles and the different sedimentation rate in liquid to realize washing process. And is equipped with water spray pipes in cleaning tank. When working, a certain amount of water is supplied to flush and submerge the raw sand in cleaning tank from the inlet. At the same time, the spiral is continuously stirred and graded, and dirt impurities, mud and tiny solid particles are suspended in the upper turbid water, gradually overflowing from the low-end overflow weir; the coarser sand particles sink to the bottom of the tank by gravity. As the spiral rotates continuously, the coarse sand is continuously agitated and graded in the water, so that the sand is fully washed.