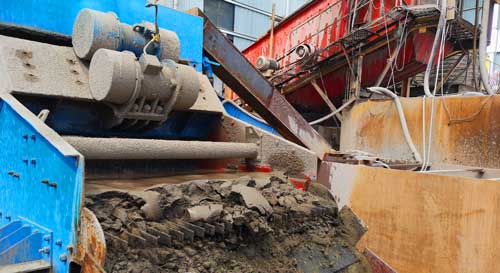 The linear dewatering screen uses double vibrating motor to make the screen move periodically along the straight line to achieve the purpose of grading dewatering. Its main functions is dewatering which can be used for sand washing in aggregate plant, slime recovery in coal preparation plant and dry discharge of tailings dewatering, so it is also called sand and gravels dewatering screen, mine dewatering screen, slime dewatering screen, tailings dewatering screen, etc
The working principle of sludge dewatering screen:
Driven by double exciters, when the two exciters do synchronous reverse rotation, the exciting force generated by the eccentric block offsets each other in the direction parallel to the motor axis, and overlaps as a resultant force in the direction perpendicular to the motor axis, so the motion track of the screen machine is a straight line. The two motor shafts have an inclination angle relative to the screen surface. Under the combined force of excitation force and material gravity, the material is thrown up on the screen surface and moves forward in a jumping manner to achieve the purpose of screening and grading materials. It can be used in pipeline to realize automatic operation. It has the characteristics of low energy consumption, high efficiency, simple structure, easy maintenance, and no dust emission in the fully enclosed structure.
Advantages of LDHB dewatering screen:
1.The material of dewatering screen is high molecular polyurethane (UHMW PE), which is resistant to impact, low temperature, wear resistance, chemical corrosion resistance, self lubrication and absorption of impact energy. Its impact resistance is high in all plastics, and its wear resistance is better than that of nylon and carbon steel.
2.The vibration motor of the dewatering screen is easy to replace, and the rubber spring at the base is used for shock absorption, so that the amplitude is small and the vibration is slow, so as to achieve better dewatering and cleaning effect.