Spiral sand washer is one of the equipment of mineral processing, which is called classifier for short. It is mainly a mechanical classification equipment based on the principle that the specific gravity of solid particles is different, so the precipitation speed in the liquid is different. At present, there are mainly high weir single helix and double helix, low weir single helix and double helix, submerged single helix and double helix classifier. On the one hand, users do not know which type of spiral classifier to buy, on the other hand, they do not know whether the manufacturer is trustworthy, whether the price is reasonable, and whether the quality is reliable.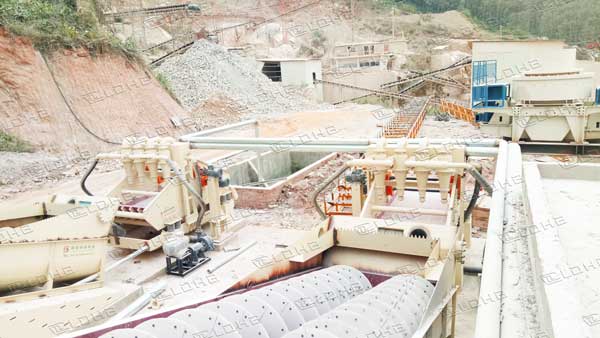 How to choose sand screw washer ?
First, according to the different invasion depth of spiral blade, it can be divided into two types: high weir type and submerged type. The high weir type is used for ore classification with overflow particle size of 0.83-0.15mm. Its settlement area is larger than that of the low weir type, and its weir height can be adjusted within a certain range, that is, the area of the settlement area can be adjusted within a certain range, so as to adjust the grading particle size. It is a common equipment in grinding cycle.
The submergence type is used for ore classification with overflow particle size of 0.15-0.07mm. The subsidence area is large, the classification pool is deep, and the spiral agitation has little effect on the pulp surface. Therefore, the classification surface is stable and the overflow flow is large and fine. In the production of concentrator, it is often used as the classification equipment of fine grinding or secondary grinding.
Second, the double helix spiral classifier, its two helixes can be perfectly matched to achieve higher production efficiency. Generally, screw classifier is used with ball mill. However, when the first screw reaches the upper limit of the load value, the second screw will reduce its processing capacity and affect the working efficiency of the classifier. Therefore, pay attention to the quantity of materials when feeding.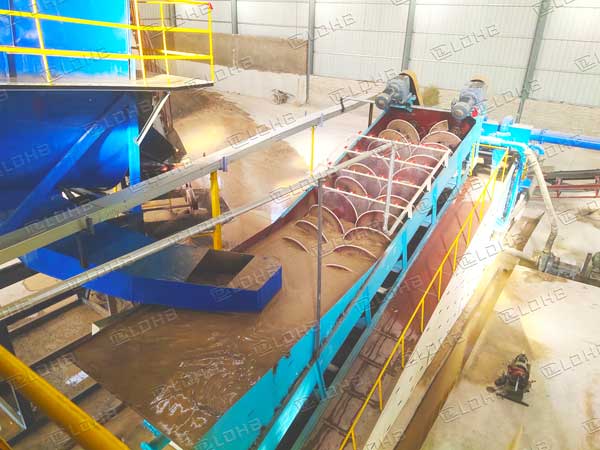 Advantages of LDHB high quality screw sand washing machine
It is suitable for large and medium-sized dry sand production line, and can control the content of machine-made sand and stone powder conveniently to meet the requirements of users; the content of 0.00-0.75mm stone powder can be adjusted between 2% – 15%; the quality of stone powder is easy to control, and the fineness adjustment is convenient, flexible and reliable; the tile lining has low maintenance rate; the frequency conversion control technology is adopted, and the operation is simpler and faster; The base of the spiral classifier is made of channel steel and the body is welded with steel plate. The screw shaft's inlet head and shaft head are made of pig iron sleeve, which is wear-resistant and durable. The lifting device is divided into electric and manual, etc.