With the decrease of natural sand, the market of machine-made sand shows great potential and vitality. Especially in recent years, the huge demand of the construction market has promoted the rapid development of the gravel market. With the improvement of infrastructure, discerning investors see business opportunities and want to set up a small and medium-sized sand production line quarry. How to configure the machine-made sand washing line?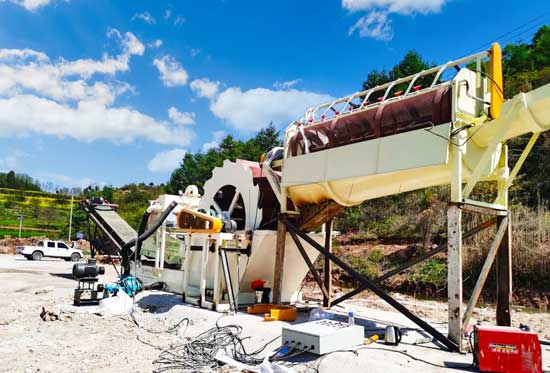 Stone production line mainly uses a series of stone crushing equipment to crush stone, and produces artificial sand and stone such as sand and aggregate. The equipment configuration of different production lines is different. Two basic rules should be followed in the configuration:
1.Understand Material Characteristics and Requirements
Before configuring the aggregate production line, it is necessary to make clear the material properties to be treated, such as hardness, size, etc. According to the crushing materials, production requirements, and the requirements of the finished product size to consider the configuration of what kind of crusher, sand machine. The selection of crushing and sand making equipment should not only meet the output, but also consider the size of the feeding port, so as to avoid that the material can not enter.
2.Understand Your Economic Strength
The economic foundation determines the superstructure. When configuring sand and gravel production lines, we should choose different production lines according to our own investment strength. Don't buy blindly. What suits you is the best. Users should configure it according to their actual purchasing power.
In general, small and medium-sized sand production line full set of equipment includes feeder, jaw crusher, sand making machine, vibrating screen and belt conveyor. Generally, the output is about tens of tons per hour, and the investment is not strong enough to be accepted by most individual investors.
Low investment and quick return
At the same time, we according to the past customer production experience, small and medium-sized sand production line as long as the reasonable operation of two months can be back. In addition to the equipment, we need to have site, stone, transformer, business license and other related conditions. In China, as long as the environmental protection and other conditions meet the requirements, we can apply for approval.
Leave Us A Comment Here
Please write down your requirement and contact details in the following form. You can also send a message to us by this sales@lyldkj.com, we will reply to you within 24 hours.