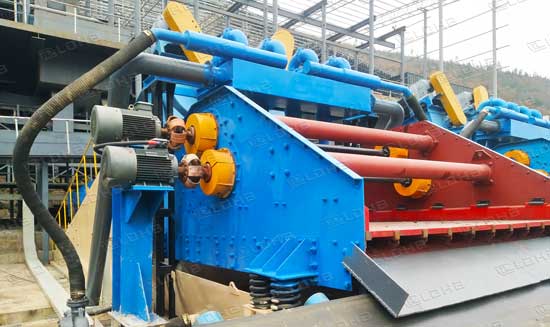 High frequency dehydration screen is widely used, and is also favored by the majority of friends. Dewatering screen is a special equipment for slime dewatering, which is widely used for slime recovery, coarse filter separation and filtration separation, and dewatering and recovery of other extremely fine materials. In addition to the excellent performance and function of ordinary dewatering screen, dewatering screen is often used with thickener to dry discharge tailings, which is a better dewatering screen and tailings dry discharge equipment at present.
As the manufacturer of dewatering screen, LDHB designed and produced the latest high-frequency dewatering screen with double electrode self synchronization technology, universal eccentric block and adjustable amplitude vibrator. It is mainly composed of screen box, exciter, supporting system and motor. Through the belt coupling shaft, two unrelated vibrators are respectively driven for synchronous reverse operation. The centrifugal force generated by the two groups of eccentric mass is superimposed along the vibration direction and counteracted by reverse centrifugation, so as to form a single excitation vibration along the vibration direction and make the screen box move in a reciprocating straight line.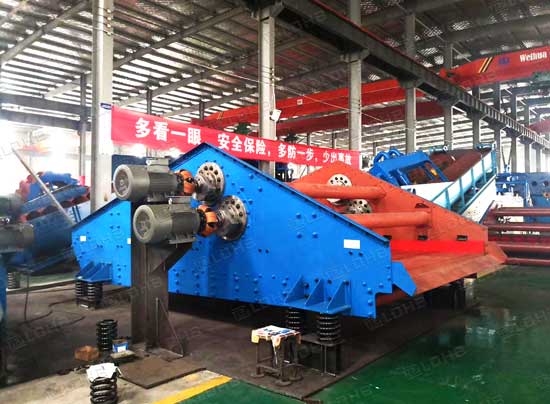 In addition, the installation steps and precautions before the use of the dewatering screen: the inspection items before the installation of the dehydration screen are as follows: whether the dehydration screen package is intact or not, whether there is moisture phenomenon; whether the vibration motor is deformed or damaged in the transportation process; whether the parts are complete; whether the fasteners are loose and fall off; whether the vibration motor nameplate data meets the requirements. In addition, the detailed rules for the installation of dewatering screen are as follows: before lifting, check whether the lifting ring is tightened in place; the roughness of the contact surface between the vibrating screen and the vibration motor foot shall not be less than 6.3; the strength of the foot bolt shall be grade 8.8, and it shall be locked with check nut or spring washer to prevent loosening.
If you want to know more about this, please continue to pay attention to our website.
Leave Us A Comment Here
Please write down your requirement and contact details in the following form. You can also send a message to us by this sales@lyldkj.com, we will reply to you within 24 hours.