If the huge profits of building a stone factory are enviable, building a mobile stone factory is enviable. The newly launched mobile sand washing machine in the world has attracted the attention of South African mining capitalists. Mobile gravel crushing station, a car is a production line, which can be transferred freely to effectively reduce the transportation cost. Free movement, energy conservation and environmental protection, small floor area and low operation cost can make you easy to make profits.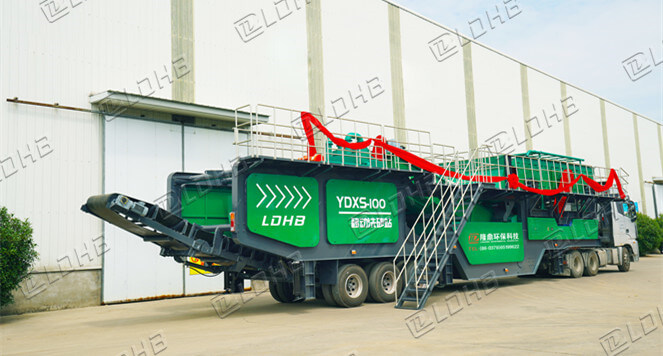 Advantages of LDHB sand mobile wash plant
Strong flexibility: it can move with raw materials, which is very convenient for transfer. It can climb slopes flexibly, overcome harsh environments such as rugged mountains and wetlands, and produce anytime and anywhere. It is very suitable for sand making projects such as construction waste;
Various combinations: it can be matched with various sand making machines, crushers, screening machines, conveyors, etc. to directly replace the traditional fixed production line without pile driving. It has very powerful functions and can meet your diversified needs;
Intelligent and convenient: the PLC remote control system can master the operation of the equipment in real time when sitting in the workshop, and the operation mode can be switched with one key. It is intelligent and convenient, which can effectively save labor cost and indirectly save your investment.
Sand mobile wash plants price of the equipment is $50,000, and the selected configuration can reach millions if it is advanced. As for the specific figures, it can not be generalized here. The equipment has a fine structure. Different discharge specifications and finished product sizes will affect your specific configuration, and the price will change accordingly. If you want to know more about mobile sand washing machine, please pay attention to LDHB sand washing machine manufacturer.
Leave Us A Comment Here
Please write down your requirement and contact details in the following form. You can also send a message to us by this sales@lyldkj.com, we will reply to you within 24 hours.