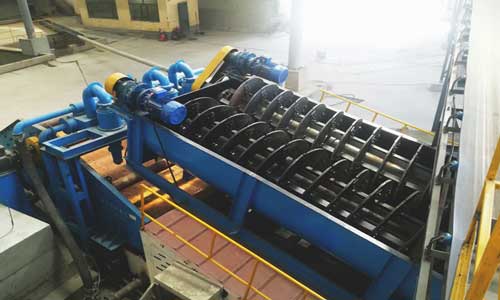 In the artificial sand production line, the stone is broken. Due to the fierce collision and the stone itself has a certain amount of soil, it will lead to a certain amount of stone powder and soil in the artificial sand, which can not meet the standard of building materials. The stone powder with normal content can make up for the problems of large gap, large water demand and poor fluidity caused by artificial sand in concrete application. Therefore, in the artificial sand production line, the stone powder and soil in the stone should be washed away by the sand washing machine. It can be seen that the sand washing machine plays an important role in the artificial sand production line.
As a common sand washing equipment, spiral sand washing machine is divided into single screw and double screw. Here is to introduce the latest research and development of ldhb multi-functional spiral sand washing machine. It is a multi-functional sand washing equipment with functions of water sand washing, sand and stone material dehydration and recovery. The equipment is composed of spiral sand washing machine, dewatering screen and cyclone. It is combined by ingenious design and is suitable for sand and gravel cleaning and recovery operation with high mud content or sticky soil.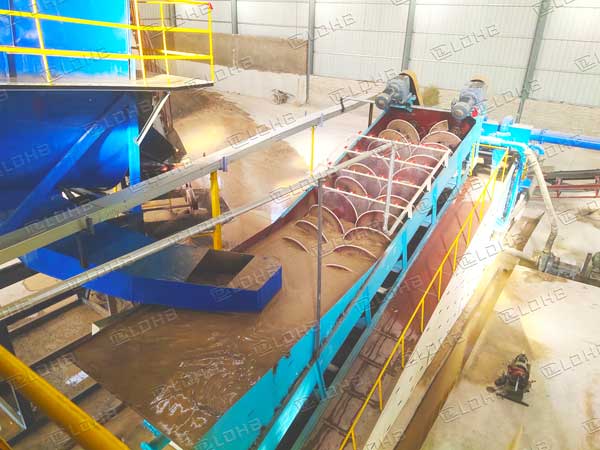 Structural composition:
Spiral sand washing device, overflow device, backwater device, tailings dry discharge device, separation and recovery device, water storage tank, water pump, motor, reducer
Product advantages:
Vibration exciter is used to provide seismic source with large exciting force. The output per hour can reach more than 300 tons, and continuous operation can be realized.
Integrated structure, the combination of screening and cleaning, easy to produce and process, short production cycle, small floor area and large processing capacity.
The slurry pump and cyclone are connected together to form the backflow of water body, save water consumption, and be able to screen and clean better.
The sand product rate of ldhb spiral sand washing machine is as high as 98% (100 tons of sand can be converted into 98 tons of finished products), which is well received by customers!
Leave Us A Comment Here
Please write down your requirement and contact details in the following form. You can also send a message to us by this sales@lyldkj.com, we will reply to you within 24 hours.