The hydrocyclone is multifunctional mining equipment do concentrating, dewatering and classifying tasks. In recent years, the application of cyclones has been expanding to the tailings treatment and has achieved good results in tailings dam construction, tailings preconcentration, tailings enrichment recovery, and tailings filling.
Hydrocyclones tailings process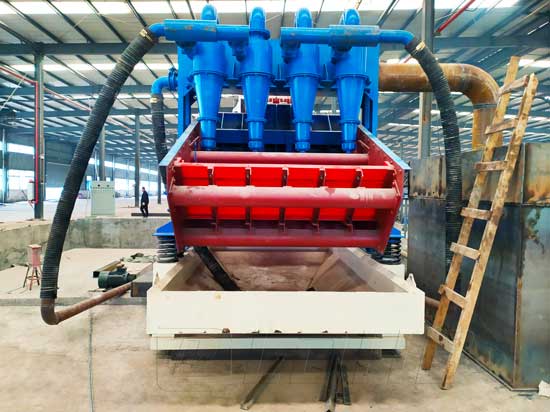 The tailings preconcentration operation often uses a thickener to concentrate the tailings slurry with a concentration of 15% to 20% by 35% to 40%.Compared with the concentrator, the hydrocyclone has a smaller space, a lower cost invests at the same output capacity, and a faster concentration speed. Under normal conditions, the cyclone preconcentration operation can increase the concentration of 10% to 40% of tailings to 45% to 70%, and the sediment yield is high.
From the results of existing experimental research, for metal mine tailings, the concentration of grit in the cyclone can reach more than 60%, the yield of grit is 40% to 70%, and the concentration of integrated tailings can reach 45% to 50%. The cyclone is used in the tailings concentration and dewatering operation, which can not only play the role of the existing tailings concentrating equipment, but also transform or expand the tailings technology.
In addition, the cyclone can also synthesize a new concentration process with the concentrating unit, and use the cyclone to quickly concentrate, separating most of the easily condensed coarse-grained tailings from the tailings, and the cyclone overflows into the thickener. concentrate. In this way, on the one hand, the load of the thickener is greatly reduced, the thickener is prevented from running, and the high concentration of grit is quickly obtained, the tailings processing capacity is improved, and the subsequent process is facilitated.
Leave Us A Comment Here
Please write down your requirement and contact details in the following form. You can also send a message to us by this sales@lyldkj.com, we will reply to you within 24 hours.