Nowadays, natural sand, river sand, sea sand and other resources are poor, and the emergence of machine-made sand makes many investors see business opportunities. Choosing a set of washing sand machine production line not only makes money, but also promotes the development of machine-made sand industry. The following details the quotation and design scheme of LDHB washing sand machine production line.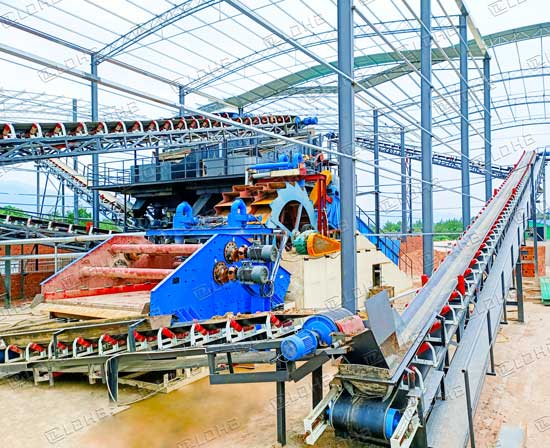 Equipment configuration scheme of sand washing machine production line:
A lot of equipment is needed to set up sand and gravel mine, machine-made sand production line and water washing sand production line. In the future, each household has different materials, sites and particle size of materials, so the equipment is different, and the investment budget is different. LDHB has a professional technical team, according to the needs of users, as well as various aspects of different requirements, to make the corresponding reasonable design, for your reference.
According to the requirements of sand washing machine production line, the equipment to be configured are: vibrating feeder + jaw crusher + filter press + sand making machine + vibrating screen + double wheel sand washing machine + conveyor + thickener, feed size: ≤ 750mm, discharge specification: 0-5mm, investment budget: 100000-500000 US dollars.
The following is LDHB customer sand production line site: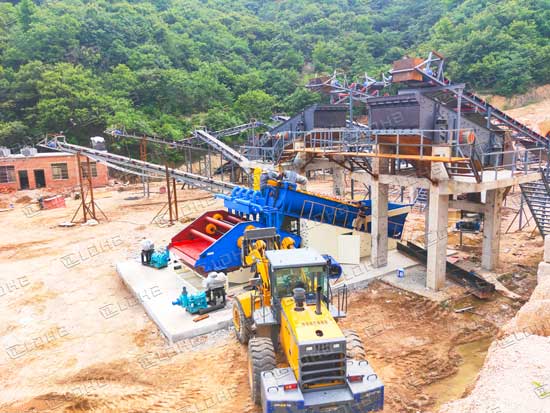 The river pebble is fed to jaw crusher evenly and continuously by vibrating feeder for coarse crushing. The crushing cavity is deep and there is no dead zone. The feeding capacity and output are improved, and the material blocking is not easy to occur. The discharge is adjustable.
After coarse crushing, it is sent to the cone crusher for secondary crushing and intermediate crushing. The impact is used to crush. According to different applications, the rotor and crushing chamber are refined. The finished construction sand is good in shape and cube.
After the material is evenly sent to the sand making machine for treatment, 0-4.75mm sand can be obtained. The equipment adopts the combined type, only the worn part needs to be replaced, and the protective plate can be turned up and down, reducing the use cost by 30%
The finished product is divided into four kinds of aggregate after vibrating screen, and then goes into the sand washing machine. It needs to wash the soil and stone powder with water to improve the cleanliness of sand. The loss rate of fine sand is low, the cleaning amount is large, and the power consumption is low. The sedimentation tank is built, and the water resources are recycled.
Quotation of sand washing machine production line
Generally, the quotation of sand washing machine production line is about80000-500000 US dollars. The specific price requires the customer to communicate with the manufacturer according to their own situation. The manufacturer's technical personnel will provide you with a set of equipment configuration scheme and accurate quotation. You can click online customer service or leave a message to consult. Looking forward to your visiting!