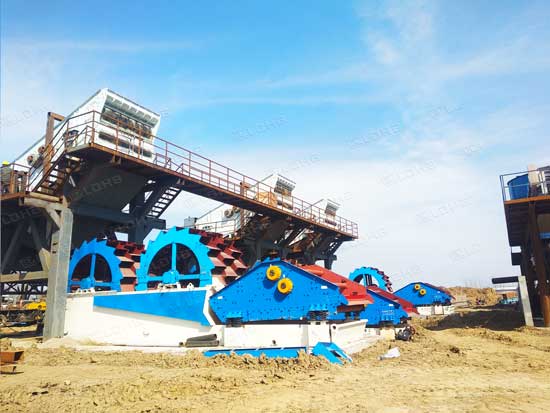 Dual wheel sand washing and recovery machine as a river sand washing machine has been widely used in Malaysia's sand mining, mining, construction site, highway, road and bridge construction, concrete mixing station, water conservancy and hydropower, chemical industry and other industries. Suitable for sand, quartz sand, pebble, granite, limestone, basalt, coal gangue, weathered sand, river sand and other materials.
The double wheel sand washing machine is a multifunctional sand washing equipment developed by LDHB. According to the feedback of customers' demand, it has been updated and upgraded on the basis of the original sand washing and recycling equipment. The equipment skillfully connects two wheel bucket sand washing machines with fine sand recovery machine. The whole machine structure is reasonable and the floor area is small, which effectively reduces the investment cost of customers in the sand washing link. The function of the equipment is to integrate multiple heavy water sand washing and fine sand dehydration recovery.
Structure: Washing wheel, water storage tank, pumping tank, backwater device, overflow device, separation and recovery device, dehydration device, reducer, water pump, motor.
Working principle: After the pre-treatment of materials into the water storage tank, two sand washing wheels start to rotate through the motor and reducer. The materials in the water storage tank are picked up from the water, and the water and materials lower than the mesh size are leaked through the mesh in the sand washing wheel, and the qualified materials are transferred to the second water storage tank.During the rotation of the sand washing wheel, the materials and water are in full contact, and the water belt is used Take the magazine on the surface of the material, which is cleaner. Then enter the dehydration unit, through the vibration of the dehydration device to remove a large amount of water, so that the material is more convenient for storage and transportation. The leaked materials in the water storage tank enter into the pumping tank at the end of the machine through the overflow device, which is pumped to the separation and recovery unit for concentration and recovery. The qualified materials after concentration are returned to the dehydration unit for dehydration and collection. The surplus waste water and impurities are discharged into the return water tank.
Leave Us A Comment Here
Please write down your requirement and contact details in the following form. You can also send a message to us by this sales@lyldkj.com, we will reply to you within 24 hours.