The dewatering screen works by using the complex rotating vibration produced by the vibrator. LDHB aggregate dewatering screens for sale is a kind of vibration screening machinery suitable for dry screening of wet fine-grained materials.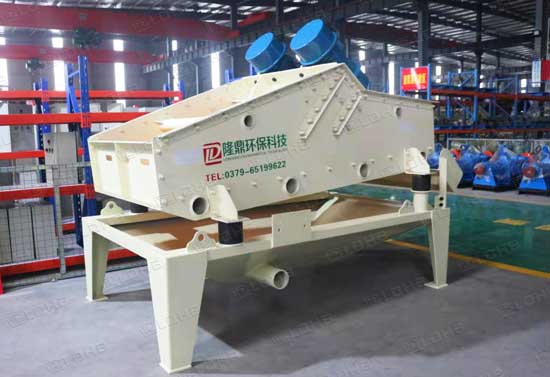 Structural characteristics of aggregate dewatering screens
1.Screen box:
It is a combination of dry surface and screen frame. The screen box has a strong bearing performance, so that its stress performance, stiffness and wear resistance are good, and the overall weight is as light as possible. The welding parts are made of matching materials, which reduces the welding internal stress, increases the service time of the screen box, and the production process is simpler, more reliable and lighter.
2.Polyurethane screen
The use of polyurethane sieve plate with good wear resistance, corrosion resistance, non flammability and good moisture resistance is more conducive to improve the screening efficiency and avoid the adhesion of wet particles. At the same time, the friction coefficient is reduced and the wear is reduced, which can improve the service life of the dewatering screen.
3.Vibration machine
It is part of the equipment for screening and grading movements. The outer eccentric structure is adopted. There are a pair of vibration motors and two sets of bearings on one side of the screen box. The bearing adopts high precision large clearance bearing. The bearing outer ring is provided with axial positioning, which can prevent the relative sliding between the bearing outer ring and the bearing seat or between the bearing inner ring and the shaft provided by axial movement, so as to reduce the problems of shaft temperature rise and high noise,
4.Support springs
The spring makes the large dehydration screen enter into resonance state under the specified working conditions. Generally, it works under the high frequency vibration of 25 Hz Hz, and the supporting structure has a great influence on the motion characteristics of the dehydrator. The support spring of ldhb dewatering screen mainly adopts metal spring, composite spring and rubber spring.
Leave Us A Comment Here
Please write down your requirement and contact details in the following form. You can also send a message to us by this sales@lyldkj.com, we will reply to you within 24 hours.