Polyurethane screen panel is a screening media that made of polyurethane material, also can be called dewatering screen panel. It is mainly used in combination with vibrating screens, and suitable for in-grained grade screening and dry-drying screen in many industries such as metallurgy, coal, chemical industry and construction, also can be used for the classification of certain corrosive materials.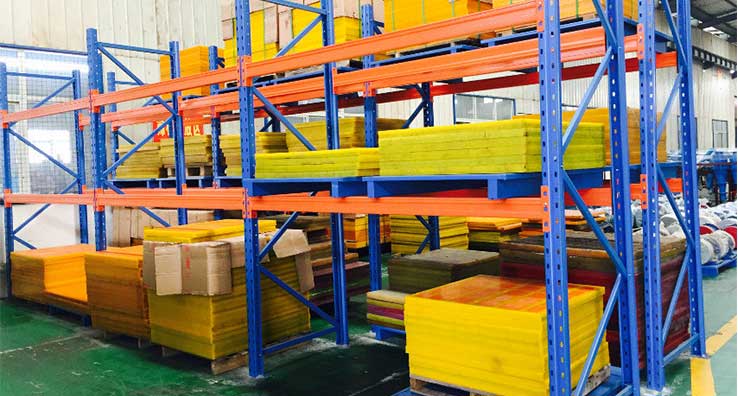 Polyurethane screen panels belong to the technical field of screening and dewatering equipment, which is used to solve the problems of low strength and short service life of ordinary screens. They are in the form of a grid of longitudinal and transverse intersections, and the warp and weft strips are composed of a steel cord core and a polyurethane surface layer. This improvement imparts superior performance to the present invention unlike conventional metal screens. LDHB polyurethane screen panel have high strength, rigidity and load carrying capacity, and can effectively reduce vibration noise and improve the service life of the screen. They are suitable for screening devices of various shapes, especially for high frequency vibrating screens for electromagnetic excitation, and can be widely used in many industries in the screening, filtration, dehydration, desliming and other operations.
Mesh aperture design: rectangular, square, circular etc.
Used for: vibrating screens and dewatering screen
Industries: coal washing, coking plant, mining screening, power plant, metallurgy, petrochemical etc
Performance of polyurethane screen plates
The screen surface with self-cleaning performance, not blocking and high screening efficiency. Because the strong permeability, large cone angle (140) of sieve pore can effectively prevent moist fine particle adhesion,so it is suitable for the classification and screening fine moist materials.
LDHB polyurethane screen is suitable for screening the various materials within the scope of 0.1mm-170mm, regardless of dry sieving or wet sieving will not affect the screening efficiency, especially for 0.5mm-3mm dehydration and sculting, the advantages of polyurethane sieve is showed more fully.
Features
1. High screening accuracy, high screening efficiency.
2. Large carrying capacity, long service life.
3. Widely application, stronger professional applicability.
4. Sound absorbing ability.
5. Energy saving and consumption reducing.
6. Corrosion resistance.
Leave Us A Comment Here
Please write down your requirement and contact details in the following form. You can also send a message to us by this sales@lyldkj.com, we will reply to you within 24 hours.