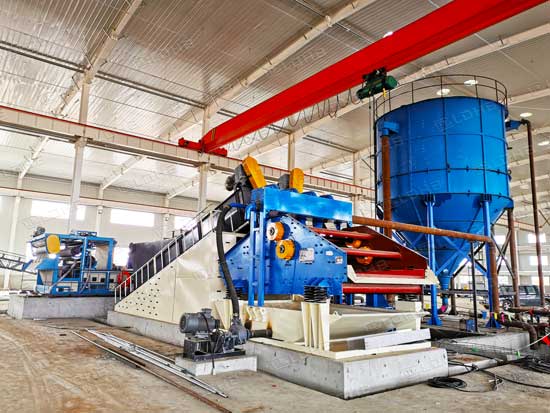 Aggregate washer is the washing equipment of sand and stone. As a large-scale mining equipment, aggregate sand washing machine is widely used in sand and stone field, mine, chemical industry, water conservancy and hydropower, concrete mixing station and other industries to wash sand and stone materials. It can remove the impurities on the surface of the sand and destroy the water vapor layer of the sand, so as to facilitate dehydration and play the role of efficient sand cleaning.
In the process of stone processing, due to the fierce collision and the soil content of the stone itself, the artificial sand will contain a certain amount of stone powder and mud powder. The existence of mud powder will seriously affect the gradation of sand. However, the existence of stone powder can make up for the large gap, large water demand and poor fluidity of artificial sand in concrete. In order to solve the problem of powder content of artificial sand, sand washing machine appeared. Following the principle of river sand making, the mud powder in the sand is removed by sand washing machine, so that the artificial sand can reach the standard of construction sand. This is the key role of sand washing machine, which is indispensable in artificial sand production line.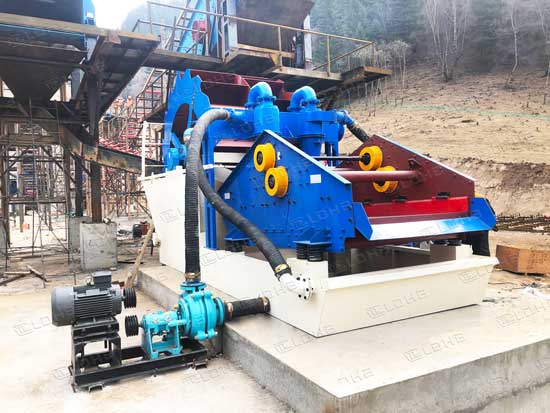 Due to the difference of materials, the equipment configuration of sand washing machine production line is also different, which can be divided into two cases:
If the user washes all sand but no stone, the configuration of the production line is as follows: silo conveyor belt sand washer conveyor.
But if the user washes large materials, the configuration of sand washing machine production line mainly includes: feeder – heavy hammer – impact sand making machine – sand making machine – vibrating screen – matching conveyor of sand washing machine.
Sand washing process of aggregate washer: when it working, the motor drives the impeller to rotate slowly through the triangle belt, reducer and gear. The sand and gravel are fed into the washing tank by a feeding tank, rolled under the drive of the impeller, and grinded with each other to remove the impurities covering the surface of the sand and gravel, and at the same time destroy the water vapor layer covering the sand particles, so as to facilitate dehydration; At the same time, water is added to form a strong water flow to take away impurities and foreign matters with small specific gravity in time and discharge them from the overflow outlet washing tank to complete the cleaning function. The clean sand and gravel are taken away by the blades, and finally the sand and gravel are poured into the discharge chute from the rotating impeller to complete the cleaning effect of sand and gravel.
Leave Us A Comment Here
Please write down your requirement and contact details in the following form. You can also send a message to us by this sales@lyldkj.com, we will reply to you within 24 hours.