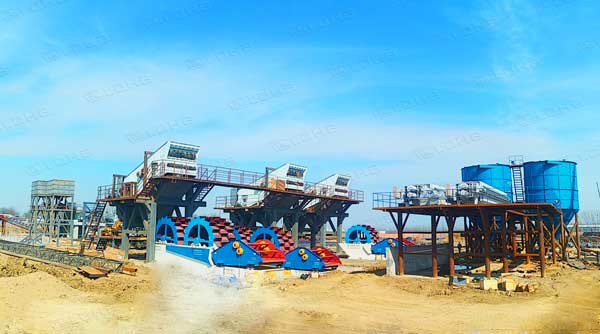 1.Crushing, Grinding & Screening
First, large quartz blocks (raw material) are sent to cone crusher (or jaw crusher) by vibration feeder for preliminary crushing, then the coarse materials produced are transported by belt conveyor to the cone crusher for secondary crushing;
The crushed coarse sand enters the grinding workshop, and after grinding treatment, it is sent to the linear vibrating screen through the belt conveyor. After screening, coarse waste sand is removed, and fine sand under the vibrating screen enters the washing stage.
2.Washing, classifying & Desliming
Many researches have shown that the grade of SiO2 in silica sand decreases with the finer the particle size of silica sand, while the grade of impurity minerals is on the contrary, especially in silia sand containing a large number of clayey minerals. So it is necessary to wash and desliming the raw silica sand before being selected.
Usually, atttition scrubbers and spiral classifiers are used for  silica sand scrubing, desliming and classifying processes.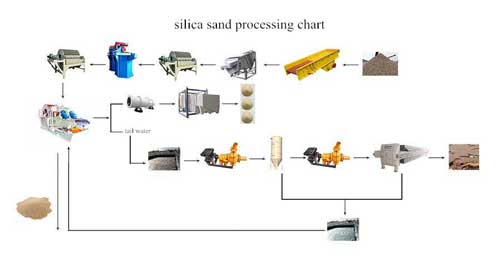 3.Silica Sand Purifying
High-purity silica sand is milky white, SiO2 content 99.5% – 99.9%,Fe2O3 < 0.001%, which has higher economic benefits than ordinary silica sand, sometimes purifying silica sand is needed. Magnetic separation, flotation and acid leaching are the most commonly used methods.
4.Drying and fine Sieving
If the previous step is acid leaching, the silica sand needs to be washed again, followed by drying and fine sieving. The main equipment in this process is sand washing machine, dryer and fine sieves. The final silica sand is 20 mesh, 40 mesh, 70 mesh and 140 mesh was obtained by screening.
5.Packing
After the finished silica sand package is packed, it will be transported and sold.
6.Waste Solid Management & Water Reuse
LDHB provides thickner and filter press for disposal of waste solids and recovery of about 85% of water in the whole silica sand washing process
Leave Us A Comment Here
Please write down your requirement and contact details in the following form. You can also send a message to us by this sales@lyldkj.com, we will reply to you within 24 hours.