The fine sand recovery machine can recover a large number of fine sand lost by the washing machine, which is also called fine sand recovery system, tail sand recovery machine, sediment separator, etc. It plays a key role in tailing hydrocyclone of slurry material dehydrating, demineralizing, desliming and fine sand recovery machine.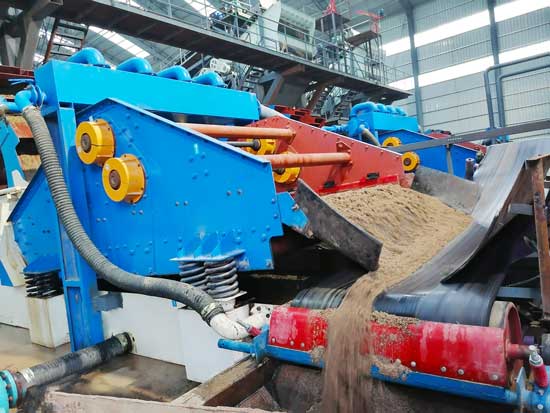 The structure of the tailings hydrocyclone is the same as that of the conventional hydrocyclone. The main body of the hydrocyclone is composed of a hollow cylinder and a cone. Hydrocyclone is a device which uses centrifugal force to carry out classification in rotary flow. Because of its simple structure, large processing capacity and good process effect, it has been widely used in classification, concentration, dehydration and separation operations. The outer spiral flow is discharged from the sediment nozzle of the hydrocyclone to become the underflow; the inner spiral flow is discharged from the overflow port of the hydrocyclone to become the overflow.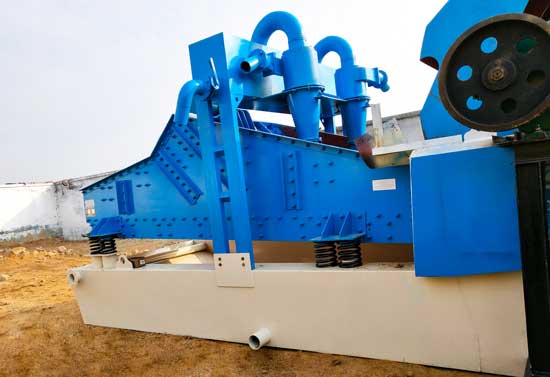 The tailing cyclone is generally used behind the thickener, so the ore feeding concentration of the tailing hydrocyclone is higher (about 40%). In addition, the particle size of the tailing is often smaller, and the classification of the tailings needs a larger ore feeding pressure. Many researches and practices show that the higher the concentration of cyclone is, the higher the feeding pressure of hydrocyclone is, the greater the abrasion of the desilting nozzle and feeding pipe of hydrocyclone is, and the shorter the service life of hydrocyclone is. LDHB cyclone separator is lined with polyurethane, which improves the service life of the whole device and can successfully complete the work of slurry concentration and liquid clarification.
LDHB fine sand recovery machine can be widely used in sand aggregate processing system, glass raw material processing system, artificial sand production line, coarse slime recovery in coal preparation plant, environmental protection engineering and mud purification. The importance of the tailings hydrocyclone of the fine sand recovery machine can not only improve the economic benefits, but also reduce the cost of tailings treatment and the pollution and damage caused by the loss of fine sand to the environment.
Leave Us A Comment Here
Please write down your requirement and contact details in the following form. You can also send a message to us by this sales@lyldkj.com, we will reply to you within 24 hours.