High-purity quartz sand has a wide range of applications in the high-tech industry. In the semiconductor industry, high-temperature thermal performance wafers can be made from molten quartz for high-temperature thermal stability with high temperature and thermal stability. In the communication industry, quartz glass produced from quartz sand is optical fiber and other optoelectronic devices.
The hydrocyclone is a device for separating and removing substances such as heavier coarse-grained silt from sewage, and sometimes used for mud dewatering. It is divided into two types: pressure type hydro cyclone separator and gravity type. It is usually made of a circular column structure or metal tube.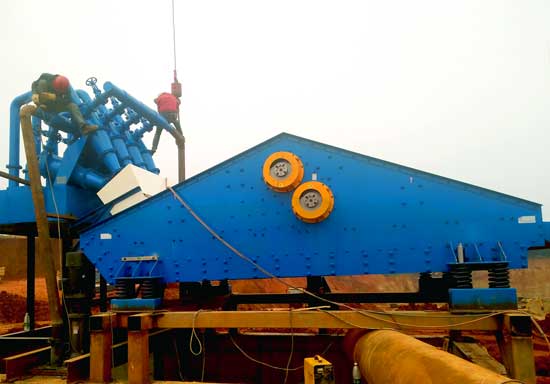 The water enters the tangential line from the upper part of the structure (or metal tube) by pressure or gravity. Under the action of centrifugal force, the coarse and heavy particulate matter is thrown to the wall and rotated downward to discharge together with the formed concentrated liquid. The smaller particulate matter is rotated to a certain extent and then discharged with the second upper vortex.
The hydrocyclone is a high-efficiency grading, desliming equipment, which is widely used at home and abroad due to its simple structure, easy manufacture and large processing capacity. Its main disadvantage is that it consumes a lot of power and is seriously worn during high-pressure feeding. The use of new wear-resistant materials, such as cemented carbide, silicon carbide, etc., to make the grit and the wear-resistant parts of the ore can partially solve this problem.
In the process of grading and purifying quartz sand, the water cyclone is mainly used for grinding classification, sorting, concentration and dehydration.
Leave Us A Comment Here
Please write down your requirement and contact details in the following form. You can also send a message to us by this sales@lyldkj.com, we will reply to you within 24 hours.