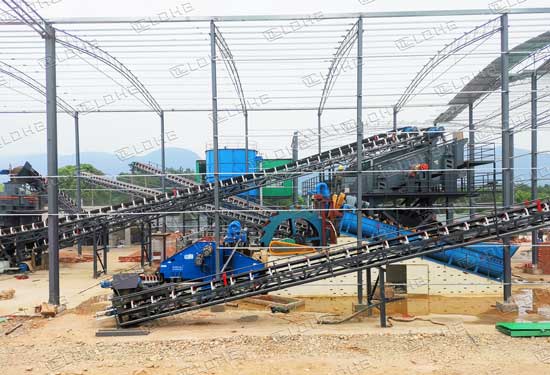 Silicon sand production line equipment due to the use of mature processing technology, and smooth process, so its finished product quality is also high, there is a large market in the sand and stone industry.
The primary crushing of silicon ore is carried out by jaw crusher, and the coarse material produced is transported by conveyor to cone crusher for secondary crushing. Two kinds of stones are separated from the finely crushed silica into the vibrating screen, which can meet the requirements of the particle size of the feed material and the sand particle shaping of the machine-made sand, but the secondary crushing is carried out to meet the requirements of the grain size of the sand machine. After magnetic separation, the silica sand meeting the specifications enters the cleaning water tank of the sand washing and recovery integrated machine after magnetic separation. The sand washing wheel bucket rotates and stirs the materials in the cleaning box to carry out the cleaning operation. The impurities covered on the surface of the materials can be removed. After cleaning, the coarse-grained materials are sent to the dewatering screen by the sand dredger for dehydration. The tail water is pumped into the separator by the slurry pump, and the sediment is separated by the separator. After recovery, the fine material is discharged to the screen surface of the dewatering screen, and the coarse material is evenly mixed and discharged after dewatering. At the same time, the slurry suspended solids treated by the separator are discharged into the sewage pool, and the tail water is pumped into the concentration tank from the sewage pool by the pump for sludge water separation. The concentrated mud is pumped into the plate and frame filter press through the bottom of the filter tank to realize dry stacking. After the pressure filtration, the clean water enters into the clean water pool to realize the recycling of the clean water.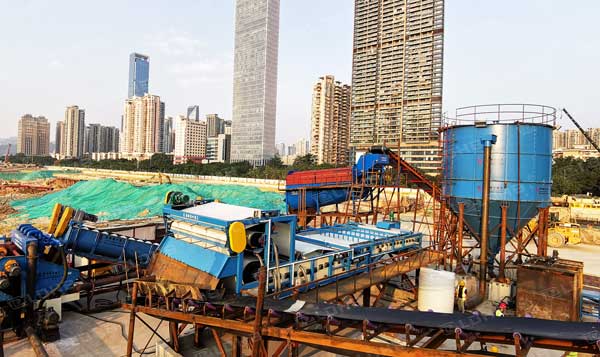 Due to the uniform particle size, good grain shape and reasonable gradation of the products produced by the whole silica sand production line, it meets the national construction sand standard. It is very popular in the market, bringing huge economic benefits, high economic benefits of investment, good quality of crushed stone and low output rate of stone powder. It seems that only when the production line is properly configured can we create a good profit. It depends on how much output you need and what kind of material you need to make, so that a suitable silica sand production line can be prepared.
LDHB production line can not only realize material classification and washing, but also save resources, reduce water consumption and comply with environmental protection.
Leave Us A Comment Here
Please write down your requirement and contact details in the following form. You can also send a message to us by this sales@lyldkj.com, we will reply to you within 24 hours.