If the powder content in the sand is large, the quality will decline, and the construction sand has regulations on the powder content of the sand, which is unqualified and can not be used. Of course, you can't sell it at a good price. The sand washing machine can be used to remove the dust and impurities in the sand.
How much water does aggregate wash plant consume in washing a ton of sand?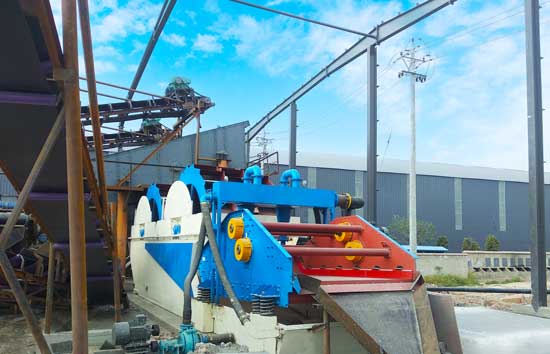 Generally, the commonly used sand washing machines are wheel bucket type and screw type. The wheel bucket type can be washed several times, with higher washing cleanliness. If the sand is washed by a single machine, the screw type is cleaner, but the screw type covers a larger area and is not very convenient to use. As for how to avoid the loss of sand material in the sand washing process, it can be connected to the fine sand recovery machine, which is a reliable way to reduce the loss of sand material.
The wheel bucket type is more water-saving than the screw type. LDHB wheel bucket sand washer uses circulating water, that is, the sand washing water can be reused. About 10 tons of sand washing water is needed for 100 tons of sand. After conversion, only 0.1 tons of circulating water is needed for cleaning 1 ton of sand and stone, which is very cost-effective. The theoretical water consumption is probably such data. Under the premise of reasonable operation, the actual water consumption is probably this range.
Leave Us A Comment Here
Please write down your requirement and contact details in the following form. You can also send a message to us by this sales@lyldkj.com, we will reply to you within 24 hours.