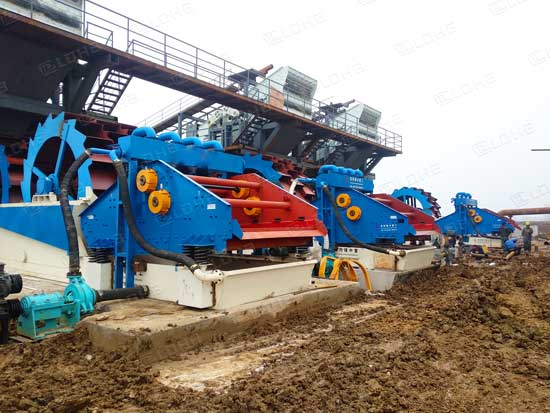 Sand washing machine is the washing equipment of artificial sand (including natural sand). The sand washing machine is widely used in sand and stone field, mine, building materials, transportation, chemical industry, water conservancy and hydropower, concrete mixing station and other industries.
In a broad sense, the sand washer is the sand washing system, which can not only be used in sand making machine, but also be widely used in the cleaning work of soil, stone and other impurities contained in river sand, ground sand, weathered sand, etc. the washed sand is commonly known as "water washing sand". It is widely used in sand field, mixing plant and various key projects. During operation, the power unit drives the impeller to rotate slowly after decelerating through the V-belt, reducer and gear, and the sand enters the washing tank from the feeding tank to complete the cleaning function. Clean sand is taken away from the blade, and later sand is poured into the discharge chute from the rotating impeller to complete the cleaning of sand.
LDHB best concrete and sand washing machine can remove the impurities on the surface of the sand and destroy the water vapor layer of the sand, which is conducive to dehydration and plays an effective role in sand washing and cleaning. Sand washing machine is also called stone washing machine. It is mainly used to remove impurities (such as dust) from sand products. Because water washing is widely used, it is called sand washing. Among them, it is also called washing machine because it is generally made of machine-made sand (broken stone). Because of its different appearance and principle, it is also called spiral sand washing machine, roller sand washing machine, hydraulic sand washing machine (also called wheel sand washing machine), vibration sand washing machine, etc.
Leave Us A Comment Here
Please write down your requirement and contact details in the following form. You can also send a message to us by this sales@lyldkj.com, we will reply to you within 24 hours.