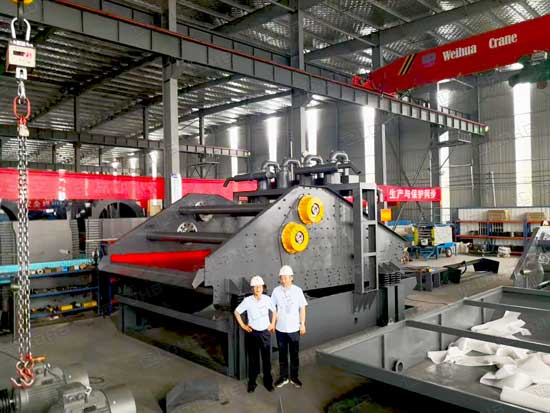 Dewatering screen adopts double electrode self synchronization technology, universal eccentric block and adjustable amplitude vibrator. It is mainly composed of screen box, exciter, supporting system and motor. Through the belt coupling shaft, two unrelated vibrators are respectively driven for synchronous reverse operation. The centrifugal force generated by the two groups of eccentric mass is superimposed along the vibration direction and counteracted by reverse centrifugation, so as to form a single excitation vibration along the vibration direction and make the screen box move in a reciprocating straight line.
Capacity of LDHB dewatering screen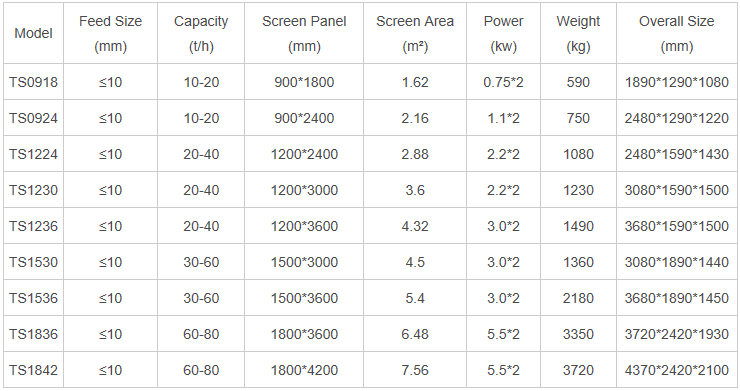 Performance characteristics of LDHB dewatering screen
The vibration motor of the dewatering screen is easy to replace. The rubber spring on the base is used to reduce the vibration, so that the vibration amplitude is small and the vibration is slow, and it can be removed clean.
It can be customized according to the output and water content. The side plate of the fuselage has a reinforcing plate, the bottom is equipped with a support, the bottom is made with a horizontal bar, and the outlet is supported by a triangular steel plate. The plate is thick,
The vibration motor is fixed by high-strength bolts, and the bottom spring is rubber spring. The quality of the spring will affect the service life of the vibration motor. The density of the sieve plate is high, and there are reinforcing ribs in the sieve plate,
4. Before delivery, the staff will debug it, whether the vibration motor is normal, whether the exciter is in good operation, to ensure the quality of products delivered to customers.
Leave Us A Comment Here
Please write down your requirement and contact details in the following form. You can also send a message to us by this sales@lyldkj.com, we will reply to you within 24 hours.