River sand is derived from the beach, and its resources are relatively rich. However, with the over exploitation in recent years, it has shown a trend of gradual shortage. The characteristics of river sand are less soil content and miscellaneous quality. River sand is mainly beach sedimentary sand, its color is grayish white or grayish yellow, which is composed of fine sand, medium coarse sand, coarse sand, gravel layer and gravel layer. River sand is a good building material because of its hard texture and clear color.
Water washed sand is a kind of natural silica sand which is washed and graded. The mud content (mass fraction) ≤ 1.0%. Water washed sand is natural sand sent to the sand washer for cleaning. The finished product after cleaning is natural sand. The grain size of the finished product can be effectively standardized through the washing process of sand and stone raw materials. The grain size of finished products can be combined and separated according to the needs of users.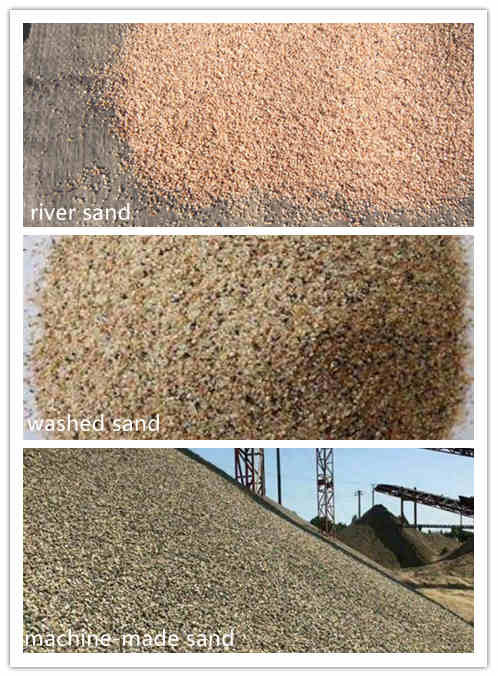 Machine-made sand refers to the sand processed by sand making machine and other auxiliary equipment. Through the oscillating feeder, jaw crusher, sand making machine, oscillating screen, sand washing machine, dust collector, powder separator, belt conveyor, sand and stone powder separation machine and electric control system, various rock particles with feeding size less than 50 mm can be processed and shaped to obtain crushed stone and manufactured sand meeting relevant quality requirements. The finished product of machine-made sand is more regular and can be processed into sand with different rules and sizes according to different process requirements, which can better meet the needs of construction sand. Machine made sand is clean, free of mud and other harmful impurities, and has the advantages of stable performance and good particle size. The impermeability, frost resistance and durability of concrete and dry mixed mortar made of manufactured sand are much higher than those of natural sand.
Leave Us A Comment Here
Please write down your requirement and contact details in the following form. You can also send a message to us by this sales@lyldkj.com, we will reply to you within 24 hours.