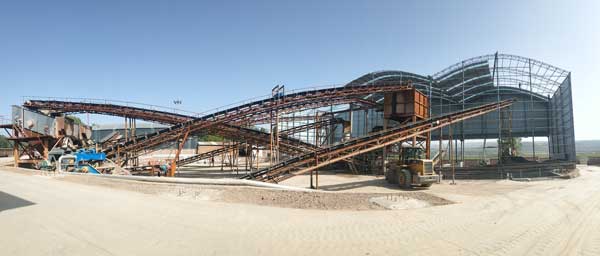 Quartz sand is a kind of non-metallic silicate mineral. It is hard, wear-resistant and chemical stable. Quartz sand is a kind of industrial mineral raw material, which has a wide range of applications, such as glass, casting, ceramics and fireproof materials, smelting ferrosilicon, metallurgical flux, metallurgy, construction, chemical industry, plastic, rubber, abrasive, filter material and other industries. So, is it profitable to invest in quartz sand production line?
To make quartz sand from raw ore quartz stone, it needs to be processed by blasting, crushing, screening, washing and other processes. The whole sand production line needs the cooperation of a variety of equipment. Of course, the profit of the production line should be deducted from the cost of the sand making equipment invested, as well as the labor cost and site rental cost. However, if we process 1000 tons of quartz stone every day, the profits will be very considerable.
We believe that it will not be long before the cost of equipment investment can be earned back.
LDHB is a newcomer in mining machinery industry. After years of development, our products cover all aspects of wet processing equipment fields, such as sand washer, dewatering screen, vibrating screen, paste thickener, filter press, etc., and have gained the consensus of the industry.
In addition, the use of different sand machine equipment can also produce different specifications of aggregate, different specifications of stone in the price difference is very big, take quartz sand, can be divided into ordinary quartz sand, refined quartz sand, high-purity quartz sand, fused quartz sand and silica powder etc. So the price difference is very big.
Leave Us A Comment Here
Please write down your requirement and contact details in the following form. You can also send a message to us by this sales@lyldkj.com, we will reply to you within 24 hours.