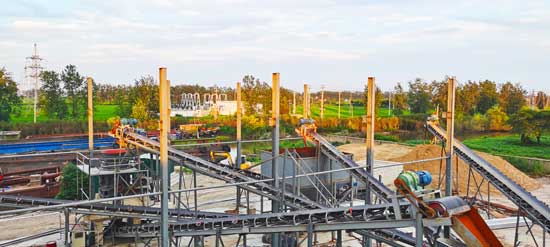 Sand dewatering screen is widely used in tailings dry discharge, concentrate dewatering, slurry concentration, chip removal, carbon slurry separation and other filtration and dewatering equipment industries. LDHB high-efficiency dewatering screen is especially suitable for processing fine-grained minerals. It can also be combined with hydrocyclone to achieve higher dewatering efficiency and more fully. It can be widely used in tailing dry discharge, concentrate dewatering and other operations. So how does a dewatering sand screen work?
LDHB dewatering and screen adopts double motor self synchronization technology, universal eccentric block and adjustable amplitude vibrator. The screen is mainly composed of screen box, vibration exciter, support system and motor. Two unconnected vibrators operate synchronously and reversely. The centrifugal force generated by two groups of eccentric masses is superposed along the vibration direction and counteracted by reverse centrifugation, thus forming a single exciting vibration along the vibration direction and making the screen box move in a reciprocating straight line. In addition, the new type of tailings dewatering screen adopts the way of opening holes on the side of the sieve plate, so that part of the water can flow out of the hole quickly, thus speeding up the dehydration speed. In addition, the damage caused by water splashing on the motor is avoided.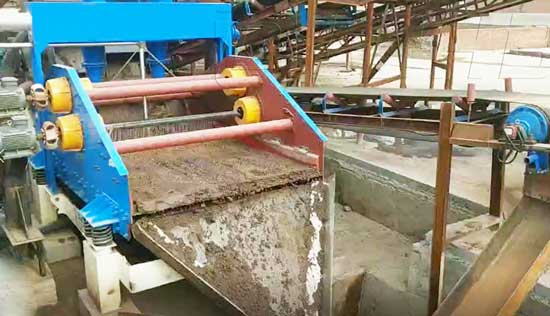 The power source adopts vibration motor, without bearing, coupling and other vulnerable parts, simple structure, convenient installation and maintenance, low maintenance cost, and can work continuously for 24 hours.
Advantages and characteristics of tailings dewatering screen:
1.The pre dewatering sieve plate is installed at a 45 degree angle with the horizontal, and the dehydration sieve plate is installed at a negative angle to increase the dewatering area and make the material dehydrate as soon as possible to form a filter layer.
2.The connection between side plate and beam, motor base and reinforcing plate adopts torsional shear type high strength bolt, and there is no weld, which avoids the side plate cracking caused by welding stress.
3.The sieve plate is made of imported polyurethane material with high opening rate, good water permeability and long service life.
Leave Us A Comment Here
Please write down your requirement and contact details in the following form. You can also send a message to us by this sales@lyldkj.com, we will reply to you within 24 hours.