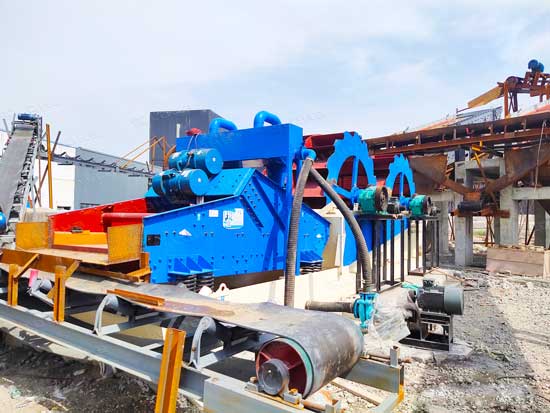 According to the materials to be processed by users, the types of sand washing machines will be selected. For the selection of sand washing machine, it is necessary to understand the performance attributes of sand washing machine before the later selection.
Wheel sand washing machine is widely used in the cleaning of various materials, whether it is inferior sand, mud, impurities and other materials, can be cleaned and screened.
On the basis of multi-function of sand washing, fine sand, dehydration and tailings recovery, LDHB double impeller sand washing machine has greatly reduced power consumption, reduced cumbersome intermediate links of equipment purchase and conveyor belt cost, and increased the efficiency by 40% compared with the traditional sand washing machine. It is worth mentioning that the fine sand and stone powder loss is smaller and the proportion of coarse sand, medium sand and fine sand is smaller due to fine sand dewatering and tailings recovery.
The double impeller sand washing machine has wide adaptability and simple and diverse feeding methods. Its import and export can be set according to the actual situation of the site, whether it is belt, funnel or other feeding methods, it can feed smoothly without taking special measures.
The impeller driven bearing device of impeller sand washing machine is separated from the water receiving material, which greatly avoids the damage to the bearing caused by immersion, sand and pollutants. The operation is very stable, the service life is long and the maintenance is free for a long time.
Leave Us A Comment Here
Please write down your requirement and contact details in the following form. You can also send a message to us by this sales@lyldkj.com, we will reply to you within 24 hours.