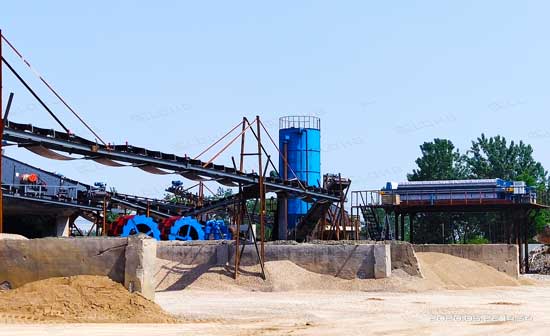 The main function of sand washing machines is to clean the impurities and dust in the materials and provide high-quality sand for the market. However, the small wheel bucket sand washing machine is loved by customers because of its small size and simple structure. So,What materials can small wheel sand washing machine clean?
Wheel sand washer can effectively remove the dust and impurities covered in artificial sand and natural sand and stone, so as to achieve high-energy cleaning effect. It is suitable for construction sites, sand and gravel plants, traffic construction and other fields. Moreover, the cleaning range of the equipment is relatively large, such as limestone, granite, river pebble, mountain sand, stone powder and other sand and stone with different particle sizes.
In the sand cleaning process , the impeller is driven by the motor, and the materials are cleaned by rolling and grinding. It has the advantages of high cleaning degree and long service life. There are three types of wheel sand washing machine, which are single wheel, double wheel and three wheel. Due to the different number of impellers installed in different types of sand washing machines, their working efficiency is different.
The use value of small wheel sand washing equiment is relatively high, and there are many manufacturers. Different manufacturers use different technologies and configure motors, which will affect the working efficiency of the equipment. LDHB is a professional sand washing equipment manufacturer. Its wheel bucket sand washing machine adopts mature manufacturing technology. Its equipment has strong sealing. It can produce 15 tons per hour and 200 tons as high as possible. LDHB production of small wheel bucket sand washing machine types, models, if you want to know more, you can leave a message to consult online technical personnel.
Leave Us A Comment Here
Please write down your requirement and contact details in the following form. You can also send a message to us by this sales@lyldkj.com, we will reply to you within 24 hours.