Exhibition Name: Perumin-34 Mining Convention
Exhibition time: September 16-20, 2019
Exhibition cycle: two years
Venue: Arequipa, Peru
LDHB Booth: 717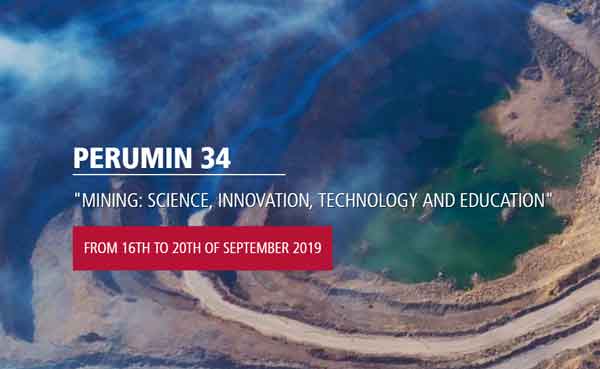 Exhibition introduction:
Perumin-34 Mining Convention, sponsored by the Peruvian Association of Mining Engineers and held biennially in Arequipa, Peru, is the most important multidisciplinary professional conference and technical exhibition in Latin America's mining industry and has a wide international influence. Since its inception in 1954, the exhibition has successfully held 33 sessions. In 2017, the exhibition area reached 85,248.44 square meters. Official statistics show that 811 exhibitors at home and abroad have visited the exhibition, with a total of more than 80,000 people. At the same time, EXTEMIN, entrepreneurs'conference, technology and Research Conference and Logistics Conference were held, and the development prospects and opportunities of mining industry were discussed and analyzed by well-known persons.
Exhibits profile:
Mining machinery and related products and accessories: mining machinery and advanced mining technology, excavation machinery, mining machinery, rock drilling machinery, pile machinery, lifting equipment, construction machinery, steel prestressing machinery, shoveling equipment, loading and transportation machinery, pneumatic tools, mineral processing and prospecting equipment and technology, mining Stone crushing and grinding machinery, mining screening machinery, surface equipment, conveying equipment, underground loader, mine electric locomotive and mining tools and equipment, diamond tools, heavy vehicles and trucks, drilling equipment and technology, etc.
Our Invitations:
Our company LDHB(Luoyang Longding Environmental Technology Co., Ltd.) has been committed to the research, design, manufacture and service of washing mechanism sand and gravel, tailings treatment, piling mud purification and waste incinerator slag treatment process. At that time, we will provide you with 3D product models and detailed explanation. We will look forward to your arrival with the most sincere attitude and provide you with professional and high-quality services.
Leave Us A Comment Here
Please write down your requirement and contact details in the following form. You can also send a message to us by this sales@lyldkj.com, we will reply to you within 24 hours.