It is very common for pebbles to be made into sand after being broken. Pebbles are the main raw materials in construction and production. Pebbles can be processed into pebbles and construction sand. Generally, many users are mostly used for pebbles to make sand. No matter there are some impurities in the process of making sand or breaking pebbles, a pebble cleaning machine is needed.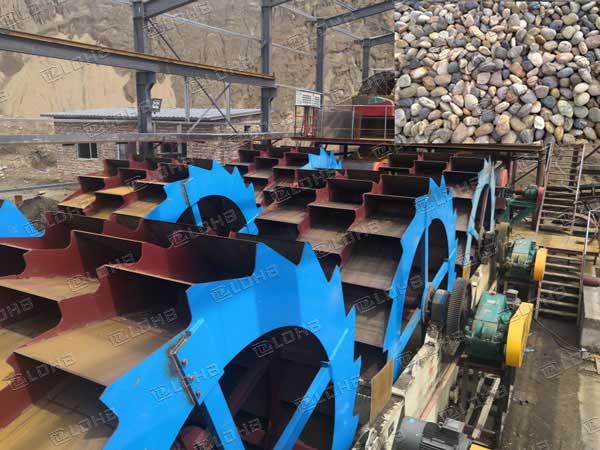 LDHB sand washing machine is a kind of wheel bucket type sand washing equipment used in cooperation with sand making machine, which is an important equipment to complete the washing operation of machine-made sand and natural sand. Advantages: multi wheel bucket design, the use of one machine design, easy to install; large cleaning capacity, small equipment wear during operation, can reduce after-sales maintenance costs. It can wash away the trace stone powder and impurities in the mixed sand produced by the sand making mechanism and improve the quality of the sand.
What are the sand washers for cleaning pebbles?
There are not only wheel bucket sand washer, but also new spray impeller sand washing machine and spiral sand washing machine in LDHB.
1.The capacity of the equipment is determined by the number of buckets, which can be divided into three types: single wheel, double wheel and three wheel. There are many options for users, which can meet the requirements of users with various output at one time.
2.The power consumption of the spiral sand washing machine is small and the cleaning degree is high. With good sealing structure, fully closed transmission device and adjustable weir plate, the product is durable, the effect of cleaning and dewatering is good, and the fine product is stable.
Leave Us A Comment Here
Please write down your requirement and contact details in the following form. You can also send a message to us by this sales@lyldkj.com, we will reply to you within 24 hours.