Both machine-made sand and natural sand are mixed with soil, dust and other impurities, which requires sand washing machine to improve the quality of sand. Therefore, the sand screening and washing machine has a high value in the market, and the equipment has a wide range of applications, such as river pebbles, weathered sand, stone powder, etc., which can achieve efficient material screening and cleaning.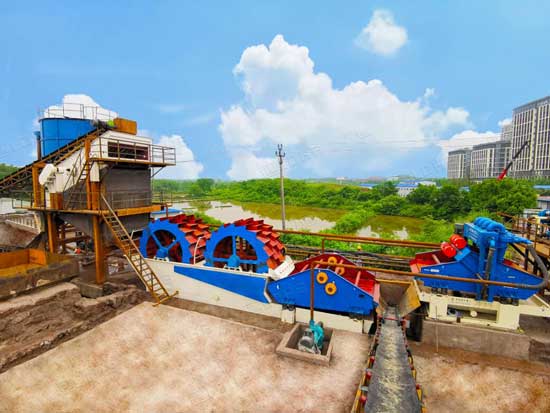 Principle of sand washer
As a common sand washing device used with sand making machine, when it works, the motor drives the impeller to rotate slowly after reducing speed through V-belt, reducer and gear. Sand and stone aggregate from the feed tank into the sink, driven by the impeller rolling grinding each other, remove the dust, stone powder and other impurities on the surface of sand and stone, and damage the water vapor layer on the surface of sand and stone aggregate, which is conducive to the dehydration of sand and stone. Add water to form a strong water flow, and timely discharge the impurities with small specific gravity from the overflow outlet washing tank to complete the washing function. The cleaned sand aggregate is taken away by the blades and poured into the discharge tank from the rotating impeller to complete the sand cleaning function.
Because there are great differences in sand washing capacity per unit time, motor power and overall size among different types of equipment. The difference of these model parameters is closely related to the later production income of the equipment. It is suggested that users carefully check the parameter table of sand washer given by each manufacturer when purchasing the equipment, and then make reasonable purchase according to the actual production demand of their own enterprises.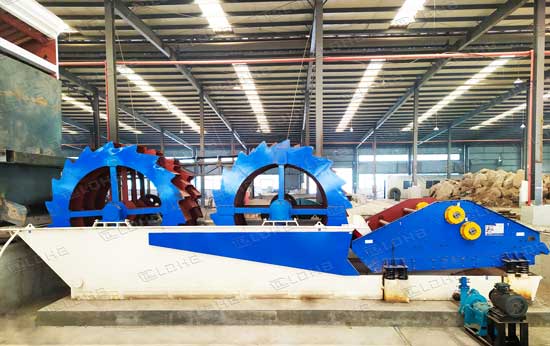 Advantages of LDHB sand screening and washing machine
Reasonable design and stable performance: the structure design of sand washer is simple, reasonable, compact and stable.
Strong sealing, not easy to corrode, long service life: the sand washing machine has strong sealing, water is not easy to enter the sand washing machine, not easy to corrode, low failure rate, increased service life, and in the process of sand washing, fine sand and stone powder are not easy to lose.
"Ferris wheel" rotation principle, clean: the sand washer uses the "Ferris wheel" rotation principle, the motor drives the impeller to rotate to clean the sand.
Large processing capacity: the sand washer combines the special rotor design with the effective and accurate control of the bypass feeding system, greatly improving the production capacity and product quality.
Leave Us A Comment Here
Please write down your requirement and contact details in the following form. You can also send a message to us by this sales@lyldkj.com, we will reply to you within 24 hours.