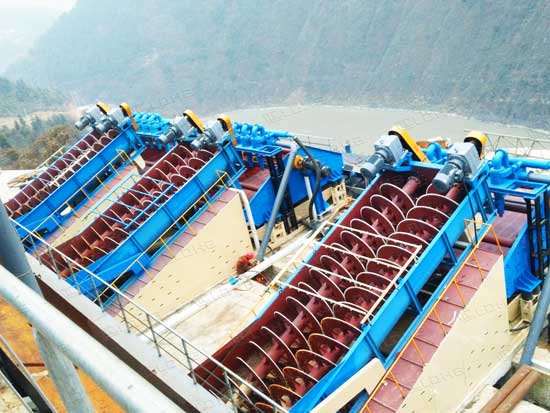 Sand screw wash machine is mainly composed of single or double spiral blades, washing trough, reducer, motor, central shaft, spiral blade and bracket. The bracket is welded on the central shaft, and the spiral blade is pressed with bolts after installation, so that the blade body is not deformed. Generally speaking, the structure is simple, the components are less, and the daily maintenance is convenient, especially the double screw device can greatly improve the production efficiency.
It is suitable for washing, classifying and removing impurities in metallurgy, building materials, hydropower and other industries. It is used for washing of fine and coarse-grained materials. It is suitable for building sand and road building sand and stone. The screw sand washing machine has the advantages of low power consumption and high cleaning degree. Its good fully enclosed transmission device and adjustable weir plate ensure the product features of high efficiency, durability and good dehydration effect.
Performance characteristics of sand screw washing machine:
1.Higher throughput
Because the sand washing principle of the screw sand washer is not to "fish" with a bucket, its processing capacity has been greatly improved. Compared with the single screw sand washing machine, its outstanding advantages are higher efficiency and larger processing capacity, which can handle materials within 0-30mm.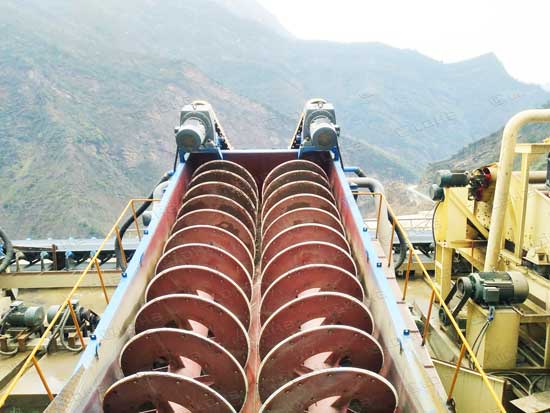 2.Higher quality of sand and stone
The spiral sand washing machine can be used to separate the super standard stone powder in the dry process of machine-made sand, and can control the content of machine-made sand powder very conveniently. The quality of stone powder is easy to control, and the fineness adjustment is convenient, flexible and reliable.
3.Long service life
In the manufacturing process of LDHB spiral sand washer, hammer head and parts are all made of high wear resistance. Moreover, the bearing is separated from water and material to avoid the damage caused by the pollution and rust of the machine, so that it can be used for a long time in the working process and effectively increase the service life of the equipment.
4.Strong processing capacity
It is mainly composed of tank body, reducer, motor, central shaft, spiral blade and bracket, with reasonable structure. Compared with single screw sand washer, its processing capacity and efficiency are further improved. Compared with wheel bucket sand washer, the service life of the equipment components is longer.
Leave Us A Comment Here
Please write down your requirement and contact details in the following form. You can also send a message to us by this sales@lyldkj.com, we will reply to you within 24 hours.