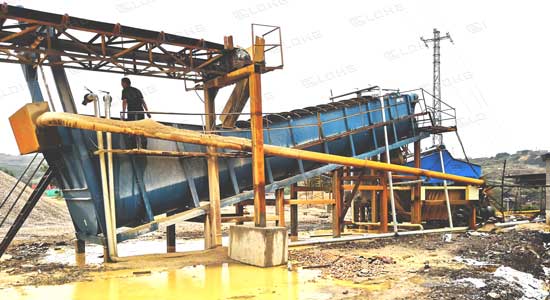 Sand screw wash plant is mainly divided into single spiral sand washing machine and double spiral sand washing machine. It has the characteristics of small power consumption, high cleanliness, fully closed transmission device and adjustable weir plate. It can effectively ensure that the equipment has high production efficiency, stable performance, good cleaning and dehydration effect, and is widely used in the washing operation of materials in basic engineering construction. How much sand can sand screw wash plant wash per hour?
LDHB as a professional spiral sand washing machine manufacturers here to remind, different equipment models, sand washing amount will be different. There are many types of spiral sand washer of the same type, and the amount of sand washing per hour of different types of equipment is not exactly the same. So if you want to know how much sand the spiral sand washer can wash in an hour, you need to determine the type and model of equipment you buy. According to the data analysis, generally 60 can wash 20 tons an hour; 75 can wash 50 tons an hour; 100 can wash 75 tons an hour; 120 can wash 95 tons an hour. How much sand can be washed depends on the output of the screw sand washer per hour.
What's more, the output of spiral sand washer in the production process is different from the actual parameters, because it will be affected by other factors. For example, the operation process is not standardized, resulting in the reduction of sand washing. In order to ensure that the equipment has better efficiency in the process of operation, it is necessary to take appropriate measures to improve the output. Use the equipment according to the correct operation steps. After the equipment is shut down, carry out comprehensive and meticulous maintenance to avoid equipment failure and ensure better production status of the equipment. Reduce the equipment failure rate, reduce the loss phenomenon, so as to improve the amount of sand washing.
Leave Us A Comment Here
Please write down your requirement and contact details in the following form. You can also send a message to us by this sales@lyldkj.com, we will reply to you within 24 hours.