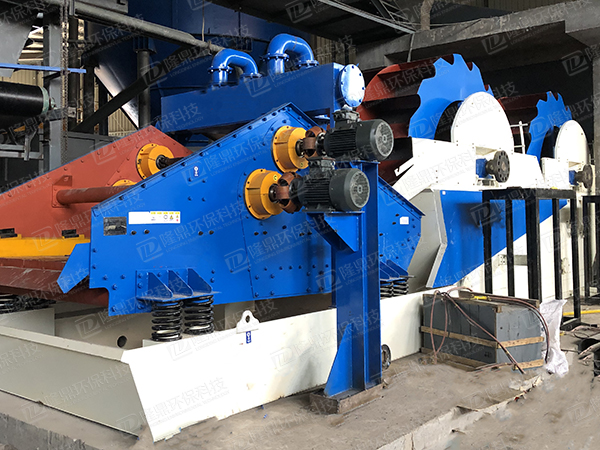 Sand washing machine is used for desliming and screening of a large number of sand and gravel used in construction sites, sand and gravel factories, prefabrication plants and hydropower construction sites, and also can be used for ore dressing operations. The aggregate of concrete is sand and stone, which contains certain stone powder and small stone particles. They can be effectively separated by sand washing machine. When sand washing machine of  the concrete enters into the washing tank from the feeding trough. Driven by the impeller, it turns over and grinds each other, so as to easily wash away the impurities covered on the surface of sand and stone.
The old type of impeller sand washing machine has been unable to meet the needs of users. Now the integrated sand washing and recovery machine is a new sand washing equipment integrating sand washing, fine sand dewatering and recovery. The equipment skillfully connects the fine sand recovery machine with the sand washing machine, with reasonable structure, small floor area and lower investment cost than the two sets of equipment. Sand washing and recovery machine is mainly divided into sand washing part and fine sand recovery part. The sand washing part is used for sand washing, dehydration and desliming. The recovery part can be combined according to the needs of customers. If it needs fine sand recovery, it can be connected with general fine sand recovery system. If it needs fine sand dehydration, it can be connected with dehydration type fine sand recovery machine. If different sand production effect is required, multi-layer dewatering screen can be configured .
Applicable materials include pebble, granite, limestone, basalt, coal gangue, concrete, weathered sand, river sand, yellow sand, etc. The advantages of this type of sand washing machine are: low energy consumption, energy conservation and environmental protection; long service life and low maintenance cost; simple installation and small floor space; special models can be customized according to different customer needs.
Leave Us A Comment Here
Please write down your requirement and contact details in the following form. You can also send a message to us by this sales@lyldkj.com, we will reply to you within 24 hours.