Sand washing machine with cyclone separator is the washing equipment of artificial sand (including natural sand). The sand washing machine is widely used in sand and stone field, mine, building materials, transportation, chemical industry, water conservancy and cyclone separator, concrete mixing station and other industries.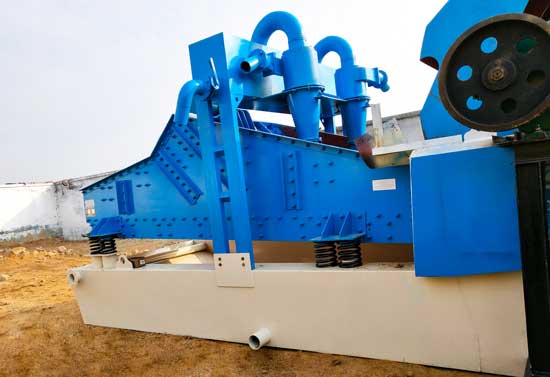 The features of LDHB small sand washer with cyclone separator:
1.Simple structure and low failure rate
The impeller drive bearing device is isolated from water and water receiving materials to avoid bearing damage caused by water immersion, sand and pollutants and reduce the failure rate;
2.New spray and double cleaning device
The water consumption is small, and a spray device is added to the original water tank. During wheel washing, the spray device sprays with the impeller rolling, so that the fine sand and stone powder can be washed twice. In addition, three protective baffles are added to the cleaning water tank, which not only strengthens the protection and prevents the environment from being polluted by the splashing of sandstone sewage, but also prevents the splashing corrosion of sewage to the reducer and motor in long-term use, effectively improving the service life of important parts of the equipment. After the equipment stops working, idling the impeller can also clean the impeller.
3.Achieve good effect
In the process of sand washing, the loss of medium and fine sand and stone powder is less, and the gradation and fineness modulus of washed construction sand meet the standard requirements.
4.High cost performance
It has high cleaning degree, large processing capacity, small power consumption and long service life.
Leave Us A Comment Here
Please write down your requirement and contact details in the following form. You can also send a message to us by this sales@lyldkj.com, we will reply to you within 24 hours.