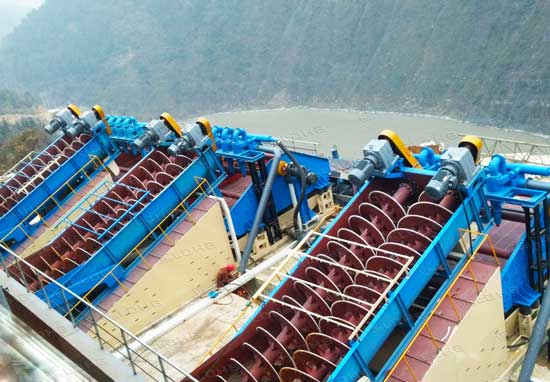 Spiral sand washing machine is divided into double screw sand washing machine and single screw sand washing machine. It is suitable for river sand, mountain sand, stone powder of stone yard and road construction machine-made sand and stone. It is mainly used for desilting and cleaning of washing, grading and impurity removal in metallurgy, building materials, hydropower and other industries. LDHB sand screen washing aggregates plant is in an advanced position in the international similar products. Especially in Sri Lanka, which has won the support and recognition of the majority of users.
The rotor of the screw sand washing machine adopts the central structure. The spiral blade is installed on the central shaft and connected to the central shaft by the reducer. According to the principle that the specific gravity of solid particles is different and the settling velocity of materials in liquid is different, the mechanical classification washing is carried out.
The spiral sand washing machine can process materials within 0-30mm. It can separate the soil and ash powder on the materials into clean materials. It has the advantages of simple structure, easy maintenance and high washing efficiency.
It reminds customers in Sri Lanka that when purchasing single screw or double screw sand washing machine equipment, they should not simply look at whether it is screw drive or mechanical transmission or low price. It mainly depends on whether the machine operates reliably, how about maintenance and after-sales service, whether the quality and structural characteristics of vibration stone washer are intact, and whether the price of stone washer is reasonable To consider the purchase intention of the machine.
LDHB specializes in the production of  spiral stone washing machines, drum rotary screen, sand washing machines, wheel sand washing machines, a complete set of sand making equipment for many years, the production technology has reached the level of perfect, will provide you with high-quality products and quality services.
Leave Us A Comment Here
Please write down your requirement and contact details in the following form. You can also send a message to us by this sales@lyldkj.com, we will reply to you within 24 hours.