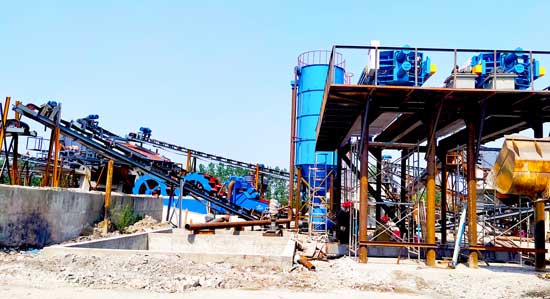 Sand and stone production line equipment is an important equipment for processing sand and stone. The machine-made sand materials processed by sand making machine can be used in the construction industry, but not all materials can be directly used after sand making machine-made sand. Some materials can only be used after sand washing stage. Sand washing machine is a kind of cleaning equipment used together with sand making machine in sand production line. It adopts new technology, which can effectively clean the soil and debris contained in machine-made sand, and improve the application of machine-made sand in the market.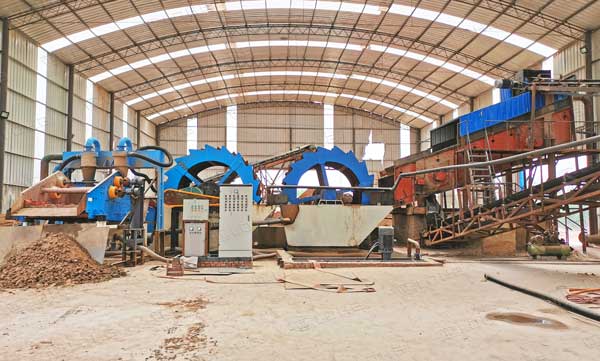 The XSD series sand washing machine produced by LDHB is a kind of wheel bucket type washing equipment, which can clean and separate the stone powder and soil in the sand. Its novel sealing structure and reliable transmission device ensure the effect of cleaning and dehydration. It is an efficient sand washing equipment used with the sand making machine. XSD sand washer is an efficient wheel bucket type sand washer produced by LDHB through long-term customer practice, feedback and production. The transmission part is separated from water and sand, and the failure rate is much lower than other sand washers. Its novel sealing structure and reliable transmission device ensure the effect of cleaning and dehydration. It has the characteristics of reasonable structure, large processing capacity and low power consumption. It is an ideal sand washing equipment in sand and stone industry.
Working principle of sand washer:
When the sand washing machine is working, the motor drives the impeller to rotate slowly after being decelerated by the triangle belt, reducer and gear. The sand and gravel have a feeding groove to enter the washing groove, and roll under the drive of the impeller, and grind each other to remove the impurities covering the surface of the sand and gravel At the same time, water is added to form a strong water flow to take away impurities and foreign matters with small specific gravity and discharge them from the washing tank at the overflow outlet to complete the cleaning function. The clean sand and gravel are taken away by the blades, and finally the sand and gravel are poured into the discharge chute from the rotating impeller to complete the cleaning effect of sand and gravel.
Leave Us A Comment Here
Please write down your requirement and contact details in the following form. You can also send a message to us by this sales@lyldkj.com, we will reply to you within 24 hours.