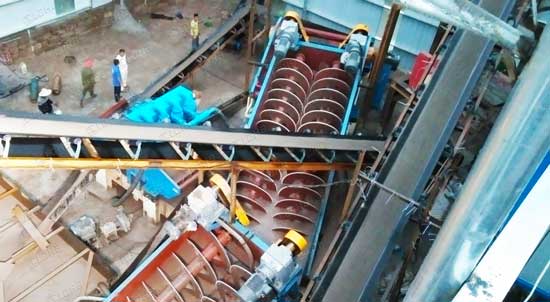 In the production process of modern sand production line, sand washing machine has become an indispensable important production equipment. Sand aggregate can effectively remove the dust pollution on the surface of sand and improve the quality of sand and stone aggregate through the washing function of sand washing machine. Screw sand classifier machine adopts spiral device, which has high working efficiency per unit time and large capacity of sand and stone treatment.
Working principle of spiral sand classifier machine:
The spiral sand washer forms a sedimentation tank at the lower part of the inclined water tank. The head of the spiral is submerged in the sedimentation tank. The spiral is driven by the motor through the reducer to rotate. The cleaning water is fed into the bottom of the sedimentation tank to complete the three functions of cleaning, dehydration and classification.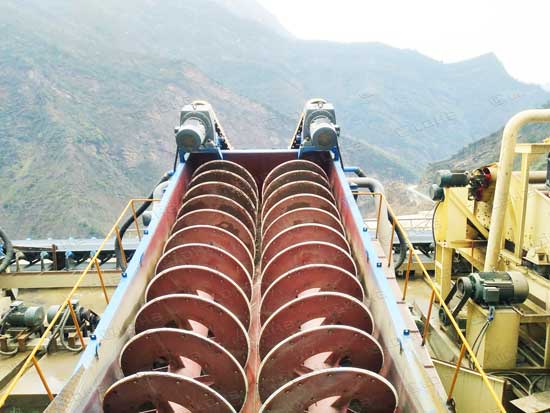 The materials fall into the high-speed rotating impeller vertically from the upper part of the machine. Under the action of high-speed centrifugal force, they collide and crush with the materials around the impeller in an umbrella shaped flow. After the materials collide with each other, they form a vortex between the impeller and the casing for many times It is crushed by collision and friction, and discharged directly from the lower part, forming a closed circuit and multiple cycles, which is controlled by the screening equipment to achieve the required particle size of the finished product.
Structural features of spiral sand washer:
Simple structure and stable operation.
Suitable for all kinds of working environment.
The washing material has less loss and high washing efficiency, which can fully meet the requirements of high-grade materials.
It has a long service life and almost no wearing parts, so it can greatly reduce the cost.
Leave Us A Comment Here
Please write down your requirement and contact details in the following form. You can also send a message to us by this sales@lyldkj.com, we will reply to you within 24 hours.