The double spiral silica washing machine can clean and separate the stone powder and soil in quartz sand. Its novel sealing structure, adjustable overflow weir plate and reliable transmission device ensure the effect of cleaning and dewatering. It is suitable for desliming and screening of a large number of sand and stone used in construction sites, sand and stone plants, prefabrication plants and hydropower sites, as well as ore dressing operations.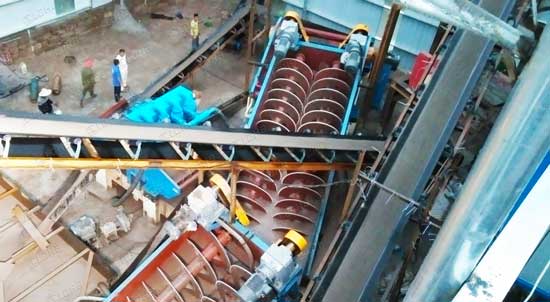 Sprial silica sand washing machine structure composition: motor, reducer, shell, spiral entity, weir plate, runner, water tank and other parts.
When it works, the motor of the quartz sand washing machine drives the impeller to rotate slowly after being decelerated by the triangle belt, reducer and gear. The quartz sand enters the washing tank from the feeding tank, rolls and grinds with each other under the drive of the impeller, so as to remove the impurities covering the surface of the quartz sand and destroy the water vapor layer covering the sand particles, so as to facilitate dehydration. At the same time, water is added to form a strong water flow and remove the impurities in time And the foreign matters with small specific gravity are taken away, and discharged from the overflow outlet washing tank, finally completing the cleaning function of quartz sand.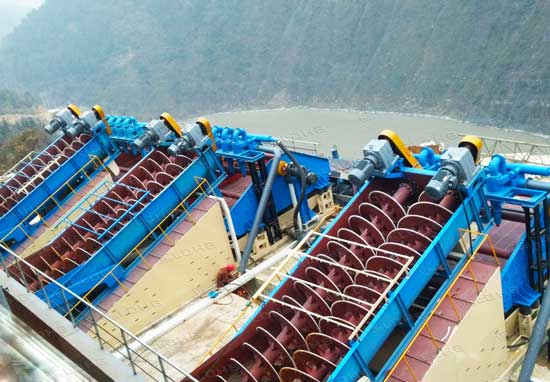 The screw drive bearing device of quartz sand washing machine is isolated from water and materials receiving water, which greatly avoids the phenomenon of bearing damage caused by water immersion, sand and pollutants.
LDHB double spiral silica washing machine is characterized by reasonable structure, convenient maintenance, large capacity, low power consumption and high cleanliness. It adopts novel sealing structure, fully sealed oil bath transmission device and adjustable overflow weir plate to ensure the high yield and durability of the series products, good cleaning and dehydration effect, and no disorder of fine products. The double spiral washing machine can also be used for washing, grading and dewatering of small sand and stone used in construction sites, sand and stone factories, glass factories, hydropower stations and other units.
Leave Us A Comment Here
Please write down your requirement and contact details in the following form. You can also send a message to us by this sales@lyldkj.com, we will reply to you within 24 hours.