Spiral stone washing machine is a kind of equipment which is specially used to clean sand before beneficiation of iron ore, manganese ore, copper ore, tin ore and other ores with large mud content. It can mix, wash, separate, desliming and other operations for mixed materials. The machine uses the buoyancy of water to separate the mixed materials. To be specific, the motor drives the screw shaft of the equipment to rotate, so as to improve the mixing efficiency The material is stirred, washed and deslimed to separate the material effectively.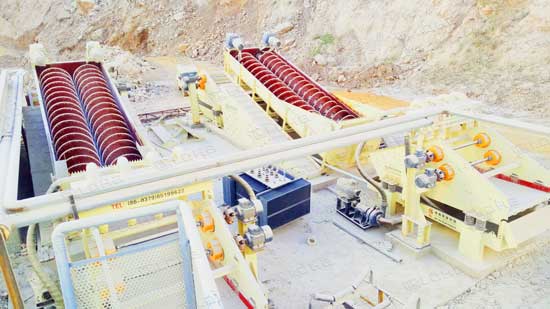 LDHB spiral stone washing machines produced are LX series, including LXS920, 2LXS920, LXS1120, 2LXS1120, etc. This series of equipment is preferred for cleaning large ore, and it is hard to clean the ore.
Since its establishment, LDHB has always adhered to the development principle of high starting point and high quality, and actively cultivated and absorbed a number of excellent technical personnel and management personnel. We have advanced large-scale  lathes at home and abroad, various precision metal cutting machines, and complete monitoring, measuring and testing means to provide strict guarantee for product quality. LDHB with first-class management, first-class equipment, first-class technology, production of various specifications and models of drum screen, wheel bucket sand washing machine, multi-functional sand washing machine and various vibration screening equipment, with complete models and reliable quality. Welcome to inspect and test the machine on site!
Leave Us A Comment Here
Please write down your requirement and contact details in the following form. You can also send a message to us by this sales@lyldkj.com, we will reply to you within 24 hours.