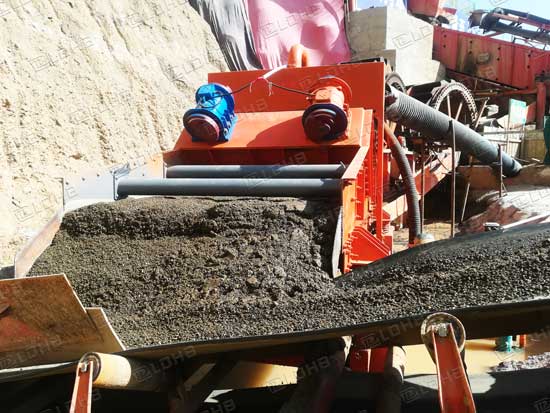 Sand washing with water is a kind of construction sand which is obtained from natural silica sand by sand washing machine and meets the national construction standard.The equipment used for sand washing includes: silo, vibrating feeder, crusher, sand washing machine, fine sand recovery machine, vibrating screen, etc.
In the washing procedure for sand, the most commonly used sand washing machine is the wheel type sand washing machine. The wheel type sand washing machine is also called the blade wheel sand washing machine. It is a wheel bucket type sand washing equipment used with the sand making machine. It is an important equipment to complete the washing operation of machine-made sand and natural sand. It can wash away the trace stone powder and impurities in the mixed sand produced by the sand making machine, and improve the quality of sand.
The sand washing equipment adopts advanced technology and is developed in combination with the actual situation of domestic sand and stone industry. It is mainly used for washing, grading and dewatering of quartz sand for construction site, sand and stone plant, concrete prefabrication plant of hydropower station, glass plant and pressure sand for oil well backfill.
Sand washing process of wheel type sand washing machine: the sand in the wheel bucket sand washing machine is continuously stirred, rubbed, collided and rubbed with each other by the rotating auger, so as to destroy the water vapor layer of the coated sand and remove the impurities on the surface of the sand. Then the sand is continuously pushed by the auger and finally discharged from the discharge end of the sand washer to get the finished sand. In order to better clean the sand to reach the mud content specified in the international standard, LDHB sand washer manufacturer uses two tandem wheel bucket sand washer to carry out long-time mixing, rubbing and friction cleaning operation on the sand.
Leave Us A Comment Here
Please write down your requirement and contact details in the following form. You can also send a message to us by this sales@lyldkj.com, we will reply to you within 24 hours.