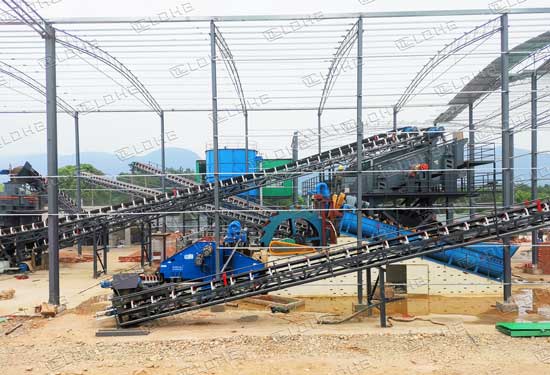 In order to significantly reduce the overall production energy consumption of the gravel line, solve the discharge of production wastewater, and improve the water recycling efficiency of the production line, LDHB has launched a self-developed zero discharge system for sewage, which can be fully automatic operation, realize the recycling of water bodies, dry discharge of pollutants, and fine sand recovery. While effectively saving the input of labor, it improves the working efficiency, and is conducive to the resource conservation and Comprehensive utilization helps enterprises develop green mining industry.
Current situation of wastewater treatment in international mining industry
1. In the process of sand washing, the fine sand is lost along with the washing wastewater, which is difficult to be separated in the follow-up treatment process, resulting in the problem that the wastewater treatment is not up to the standard and the finished sand grading is not reasonable
2.The process of wastewater treatment needs manual dosing, resulting in the increase of labor cost.
3.In order to ensure the effect of sewage treatment, a large number of chemicals are added, resulting in excessive drug content in the treated clear water.
4.Because of the high cost of sewage treatment, enterprises will have the risk of shutting down at any time.
In view of the above problems, LDHB has spent several years to go to the customer's site, collect customer feedback, and develop a new generation of zero  discharge system based on the advantages and disadvantages of current international sewage treatment equipment. It has many advantages, such as rapid sedimentation, full automatic operation, automatic adjustable dosing, reagent saving, waste water recycling and so on! The whole system takes sand washing and recovery machine, fine sand recovery machine and other equipment as pre-treatment, which can effectively reduce the loss of fine sand in the sand washing process and enhance the grading of sand! The system can help users to realize environmental protection production and reduce consumption of production line, while increasing the profits of enterprises.
Leave Us A Comment Here
Please write down your requirement and contact details in the following form. You can also send a message to us by this sales@lyldkj.com, we will reply to you within 24 hours.