Machine made sand has gradually become the main source of building aggregate. However, after crushing, sand making, screening and other production processes, the ore can not be directly used for building aggregate, which contains a lot of impurities. It needs a sand washer to clean before it can become high-quality machine-made sand. How much water does the sand washer need?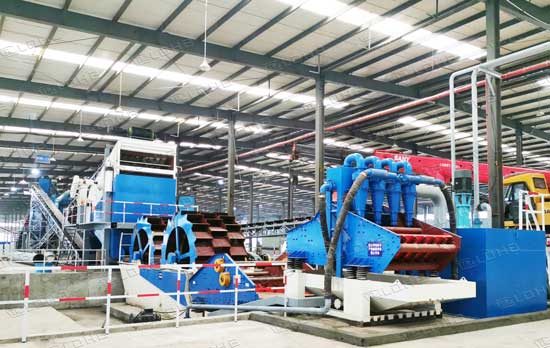 Machine made sand will consume water resources when washing sand. The granularity, powder content, mud content of machine-made sand and the type of sand washing machine will affect the water consumption. A large number of practical data show that washing one ton of sand needs about 2 ~ 3.5 tons of water. This data is only theoretical data, and normal sand washing process may not consume so much water. In sand washing, the wastewater can be recycled by setting up a sedimentation tank, which can save a lot of water for sand washing.
Professional sand washing equipment is needed to clean sand and stone aggregate. Wheel sand washing machine and spiral sand washing machine are common in the market. There will be a certain loss of fine sand when washing sand with these two kinds of equipment, which will bring loss to users. Therefore, users will generally choose sand washing machine with higher recovery rate.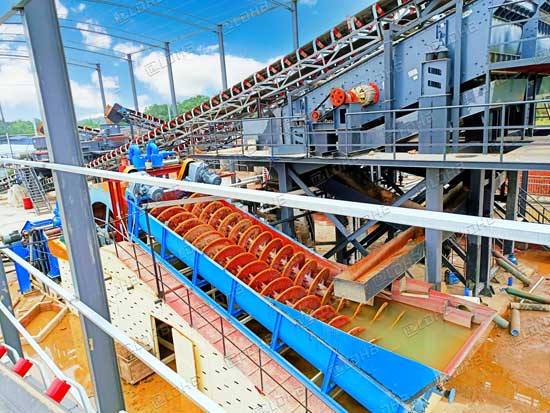 The wheel type sand washing machine has a vertical structure, which has the advantages of small water consumption, small sand loss, small floor area and wide application range; Spiral sand washing machine is horizontal structure, can complete two kinds of work of sand selection and sand washing at the same time, the cleanliness of sand and stone cleaning is higher, the output is large, but it covers a large area and consumes a large amount of water. In the aspect of sand washing recovery, the wheel type sand washing machine has more advantages, but the spiral sand washing machine can improve the recovery rate of fine sand by configuring the fine sand recovery machine.
The structure of the spiral sand washer is more complex than that of the wheel sand washer, so the production cost of the spiral sand washer is higher. The wheel sand washer is usually used in small sand and gravel plants with small output requirements, while the spiral sand washer plant is used in large sand and gravel plants with large output. The bucket wheel sand washer with the same output is generally cheaper than the screw sand washer.
Leave Us A Comment Here
Please write down your requirement and contact details in the following form. You can also send a message to us by this sales@lyldkj.com, we will reply to you within 24 hours.