Wet sand making and dry sand making peocess both are the main methods for the prouction of mechanism sand. In the processing of stone materials, artificial sand contains a certain amount of stone powder and mud powder, which in turn affects the gradation of artificial sand. In order to solve the problem of powder inclusion, wet sand making and dry sand making appeared.
Wet sand making
In short, equipped with sand washing machine in sand production line to wash out the impurities and power, the method is called wet sand making. It is more suitable for areas with heavy rain and abundant water resources in the south.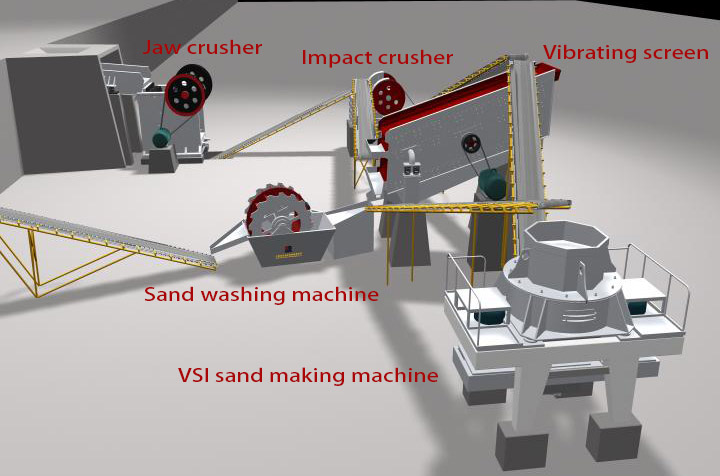 Dry sand making
The method of separating sand powder by using the classifier is called dry sand making, and is more suitable for places where water is scarce, and environmental protection requirements are not very high.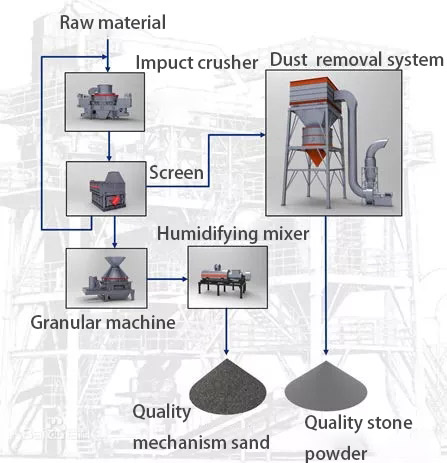 Similarities
The main equipment used in the two production plants is the same, that is the coarse crushing machine, fine crushing machine and high efficiency sand making machine. The purpose of both is also the same, both for the higher quality of sand and in line with the standards for construction sand.
Differences
1. Different subsequent configuration equipment
Wet sand making is a sand making mode that using sand washing machine to achieve roundness of sand and reduce soil content.
Dry sand making method is adopting the powder concentrator to achieve the separation of sand powder, and finally selects the construction sand with excellent quality. And dust will also be collected as a by-product.
2. Different applicable area
Wet sand making method is suitable for using in watery areas and places close to water sources. The sedimentation tank can be established to achieve the purpose of recycling water resources. And fine sand recovery machine can be equipped for recycling the fine sand that mixed in muddy water.
Dry sand making method is suitable for using in areas far from water source, such as the arid areas.
3. Different investment costs
Generally, dry sand making production lines adopt high efficiency classifier for sand powder separation. There is no need to add a large amount of water to clean the production process, and the overall production cost will be relatively low.
4. Different development time
The dry sand making technology is later than the wet method and is further developed on the basis of the traditional wet sand making line. This technique is relative to wet sand making, which does not require water during the sand removal process, and is therefore referred to as a dry sand production line.
Advantages and disadvantages comparison
Sand making process
Advantages
Disadvantages
Wet sand making method

1. Sand is clean.

2. No dust pollution in the production environment.

1. High use of water resources, high production costs.

2. Geographical restrictions, water shortage areas are not available.

Dry sand making method

1. Reduce production costs because of without using water.

2. Unrestricted by the environment.

3. Small footprint and compact production line layout.

1.Large dust content cause the environmental pollution in production process.

2.High requirements for sand and gravel raw materials.

3.The finished sand is not as clean as the wet production line, and the look is poor.
In actual production, selecting wet or dry sand making method is depends on the area and water resources, cleanliness of raw materials, specific requirements for aggregate, artificial sand powder content and fineness modulus.
Leave Us A Comment Here
Please write down your requirement and contact details in the following form. You can also send a message to us by this sales@lyldkj.com, we will reply to you within 24 hours.