News & Events Jun 19, 2021 Comments
Circular vibrating screen is a kind of screening machine which is widely used in mine sand and stone treatment plant. The circular vibrating screen has simple structure and less maintenance. It is mostly used for screening coarse-grained materials. In the sand and stone treatment plant, it is mainly used for screening before cleaning materials. According to the number of vibration exciters used, the circular vibrating screen is divided into single shaft circular vibrating screen and double shaft circular vibrating screen.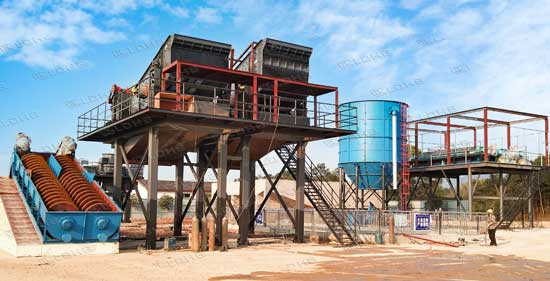 When the circular vibrating screen works, the center line of the driving pulley on the screen box does not change in space, that is, the center line of the belt pulley on the screen box does not vibrate with the screen box. According to the different structure of vibration exciter, this kind of screen can be divided into bearing eccentric type and pulley eccentric type. The motion of the circular vibrating screen seems to move up and down. In fact, its power part is in the form of circle or ellipse. Because the upper and lower parts of the equipment are supported by springs, the motion track of the circular vibration of the equipment is buffered and offset, resulting in irregular motion.
What is the difference between circular vibrating screen and linear dewatering screen in application?
The circular vibrating screen is mainly used to screen materials with heavy ratio, large particles and high hardness. It is widely used in mines, coal mines, quarries and other mining industries. It is an ideal equipment to deal with materials after primary crushing and secondary crushing. It can also be used to screen finished materials. The linear dewatering screen is mainly used to screen medium and fine particles, light specific gravity and low hardness materials. It is usually widely used in food, chemical, building materials and pharmaceutical industries. The screen surface is reciprocating in a straight line, and the upper material layer is compacted in the process of jumping and falling while moving forward. Therefore, it is especially suitable for dewatering, medium removal, liquid removal and heavy medium separation, It is widely used in coal preparation plant.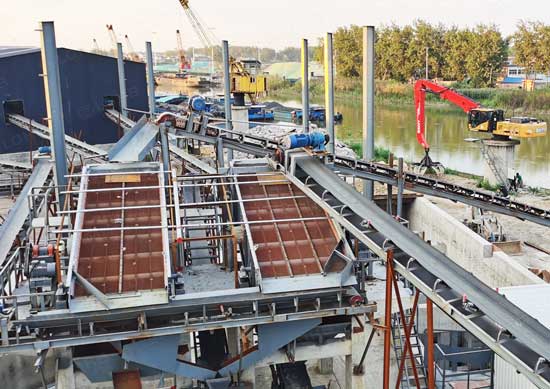 Characteristics of LDHB circular vibrating screen
Large capacity and high screening efficiency.
The vibrator is disassembled as a whole, which is convenient for maintenance and replacement, and greatly shortens the maintenance cycle( It only takes 1-2 hours to replace the vibrator).
The screen machine adopts rubber spring to reduce vibration. Compared with metal spring, it has the advantages of low noise and long service life.
The side plate of the screen adopts the whole plate cold working, no welding, high strength and long service life. The connection between the crossbeam and the side plate is connected by high-strength bolts with torsional shear resistance. There is no welding and the crossbeam is easy to replace.