Sand washer, as a kind of washing equipment commonly used in the cleaning of construction sand, can be used not only for the cleaning of construction sand, but also for the cleaning of stone. Therefore, sand washer can also be called stone washer. So, what is the working process of sand washer when it is used for sand and stone cleaning?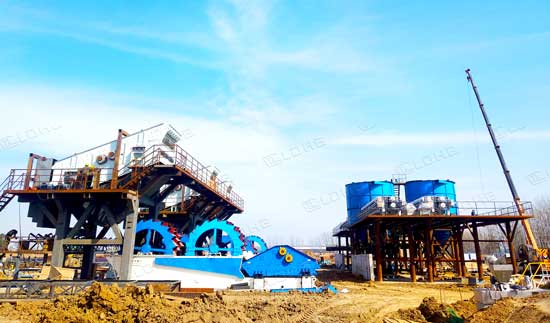 Working process of sand and sotne sand washer:
Storage of stones to be cleaned. Generally, the stone to be cleaned should be stored in the storage hopper first. When loading the storage hopper, the loader is usually used. The width of the hopper mouth should be greater than 3m. The hopper capacity depends on the loading height, transportation height and the angle of raw material self flow of the loader. The larger the hopper, the better.
The stone is transported to the sand washer. Belt conveyor is generally used when stone is transported to sand washer.
Stone cleaning. According to the mud content of stone material, a throttling device is set at the inlet to control the cleaning amount. Since most of the quarry materials have a small amount of dust and low adhesion, the cleaning process does not need to be too long.
Complete the stone output of cleaning. It is mainly to avoid bringing out the dirty water in the cleaning tank when the stone is discharged after cleaning, so as to prevent the secondary pollution of the stone. The stone after cleaning is sent to the finished material storage area for use by belt conveyor.
Leave Us A Comment Here
Please write down your requirement and contact details in the following form. You can also send a message to us by this sales@lyldkj.com, we will reply to you within 24 hours.