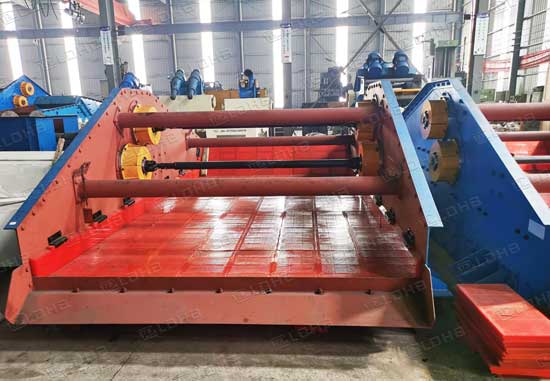 The main functions of vibrating dewatering screen are dewatering, desliming and demedium. It can be used for sand washing in aggregate plant, slime recovery in coal preparation plant, dry discharge of tailings in concentrator, etc. When acting on different materials, the structure of the dewatering screen is different. For example, the sand dewatering screen on the sand washing production line and the tailings dewatering screen commonly used in the concentrator are different types. It is also called ZSD linear vibrating screen.
LDHB linear vibrating screen is divided into ZSD series and TS series according to different exciting forms. The inclination angle of the main body of the screen machine can be different according to different screening requirements. The upward designed inclination angle of the screen surface forms a slurry pool at the feeding end, and its static pressure head helps the liquid slurry to pass through the screen, resulting in large material handling capacity; Double motor self synchronous vibrator is adopted. The vibrating motor generates linear vibration track through synchronous and reverse rotation to promote the transportation, dehydration and discharge of products (coarse materials) on the screen; It is supported by damping steel spring, with low noise, low power consumption and low power load; Using wear-resistant polyurethane screen, the screen plate has high opening rate, good dehydration effect and long service life.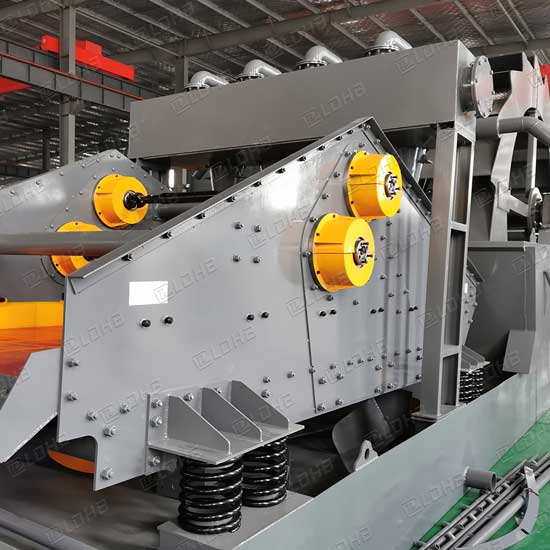 ZSD series linear vibrating screen
Two center beam excitation motors are used as the excitation source, and the structure is compact
The sieve plate is made of wear-resistant flexible polyurethane material, modular installation, partial wear and partial replacement to reduce the maintenance cost
The steel is made of high quality manganese steel, and the whole beam profile is designed with complete stress relief treatment
Overall profile design of bottom crossbeam, surface wear-resistant rubber protection
The side plate and guard plate are processed by numerical control machine, with high strength bolt connection and no weld
High frequency vibration and screen surface inclination design promote the continuous discharge of materials on the screen, with large processing capacity per unit area.
Leave Us A Comment Here
Please write down your requirement and contact details in the following form. You can also send a message to us by this sales@lyldkj.com, we will reply to you within 24 hours.