With the continuous improvement of the industry, all walks of life need different raw materials, such as casting industry, steel industry, glass industry and chemical industry will use chrome ore. Chrome ore sand washing process is to wash chrome ore raw materials (which have been broken into powder in South Africa) by water washing. The purpose is to screen the particle size with drum screen and remove mud and impurities. After drying the raw material of chrome ore, the moisture is removed, and the dried raw material is sent to the vibrating screen to screen out the required particle size.
LDHB rotary screen is mainly composed of motor, reducer, drum device, frame, seal cover and inlet and outlet.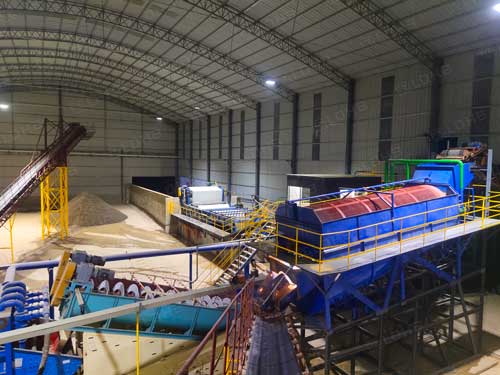 The principle of screening chrome ore raw materials by trommel screen: the drum device is inclined installed on the frame, the motor is connected with the drum device through the reducer through the coupling, and the drum device is driven to rotate around its axis. When chromium mineral materials enter the drum device, due to the tilt and rotation of the drum device, the materials on the screen surface are overturned and rolled, so that the qualified materials are discharged through the outlet at the bottom of the rear end of the drum, and the unqualified materials are discharged through the discharge port at the tail of the drum. The material is turned over and rolled in the drum, so that the material stuck in the screen hole can be ejected to prevent the screen hole from blocking.
LDHB trommel screen adopts special screen, which has high screening efficiency and is not easy to block. The sieving cylinder can be closed and easy to be closed for dust collection. It has the characteristics of stable operation, simple structure and convenient maintenance. It is the best equipment for chrome ore sand washing process.
Leave Us A Comment Here
Please write down your requirement and contact details in the following form. You can also send a message to us by this sales@lyldkj.com, we will reply to you within 24 hours.