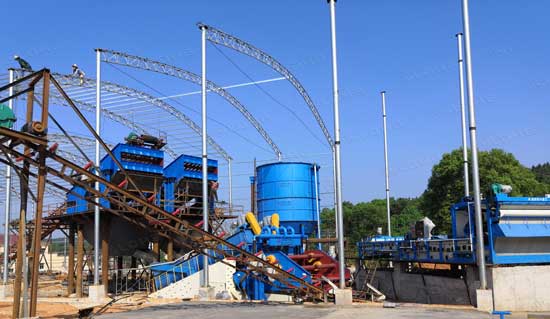 Process introduction of sand washing production line for fracturing sand: the fracturing sand is stored in the silo and screened by linear vibrating screen. After screening, more than 20 mesh materials are extracted separately. Materials less than 20 mesh are magnetic separated by magnetic separator, and then washed by scrubbing machine. The material is fully stirred and washed when passing through the scrubbing machine. The scrubbed sludge enters the secondary magnetic separation operation. The sand material after the magnetic separation is cleaned and dehydrated in the sand washer, separated by the impeller separator, and then enters the lower dewatering screen for dehydration treatment. The waste water (containing a large amount of fine sand, mud, dust and other impurities) overflowing from the cleaning box. Then, the separated sand is thickened by the trihydrogen purification body, and the mud flows into the mud transfer pool by itself. Then, it is pumped by the special pump of the filter press, and pumped into the box filter press. After being filtered by the filter press, the mud cake is discharged. At the same time, the three hydrogen purification body overflows the clean water, and the clean water filtered by the filter press flows back to the clean water transfer pool, so as to realize the dry discharge treatment of solid waste and the recovery and reuse of water resources.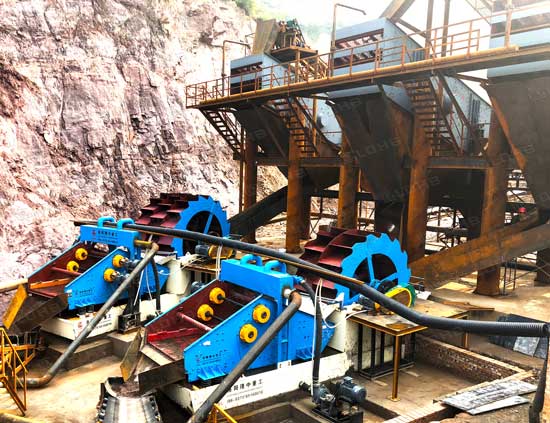 The fracturing quartz sand washing production line designed and manufactured by LDHB has been put into operation. The production line has been running well and the output is stable. It has broken the series of problems of traditional production line, such as large dust, large land occupation and large fineness modulus of finished products. It has realized a new screening and washing production scheme with green, environmental protection, energy saving, small space occupation and good quality of finished products, which has brought considerable economic benefits to users.
Characteristics of sand washing production line for fracturing quartz sand:
Stable operation. Oil fracturing sand screening and washing production line automatic production operation, sand screening and washing operation is more simple, labor-saving and time-saving.
Low failure rate. The parts of the equipment are resistant to pressure and wear, with small replacement rate, modular design, simple operation and convenient maintenance.
Environmental protection, energy saving and pollution reduction. Large output, high efficiency, ensure less dust, noise and other emission pollution in screening and washing production process, all operations meet the requirements of environmental protection.
Leave Us A Comment Here
Please write down your requirement and contact details in the following form. You can also send a message to us by this sales@lyldkj.com, we will reply to you within 24 hours.