Dewatering screen for aggregate is composed of vibration exciter, pulp distributor, screen frame, frame, suspension spring and screen screen. It is a large-scale screening equipment with international quality developed by LDHB in recent years. It is suitable for raw coal dehydration, classification, desliming, mine screening, power plant screening and material separation process of coal chemical industry.
The straight-line dewatering screen adopts the linear motion mode, which makes the material not easy to block the screen hole, and the screen plate life is longer than the traditional circular vibrating screen, which is the first choice for upgrading the traditional circular vibrating screen.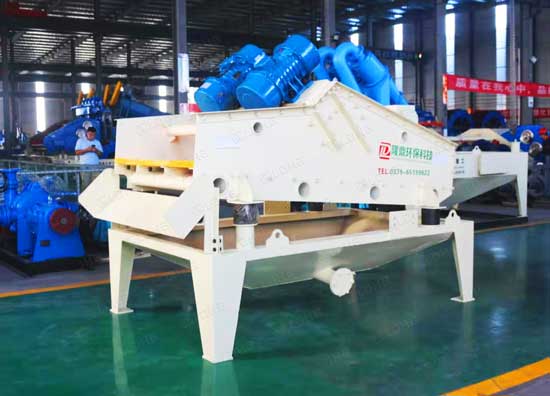 Different from the principle of ordinary screening equipment, due to the high frequency of dewatering screen for aggregate, on the one hand, it destroys the surface tension of pulp and the high-speed oscillation of fine materials on the screen surface, accelerates the high-density useful minerals and separation, and increases the probability of contact between the smaller particles and the sieve opening. As a result, a better separation condition is created, which makes the material smaller than the separation size, especially the material with a large proportion, and the pulp pass through the sieve hole together to become the product under the sieve.
Linear high frequency dehydration screen is compact in design, simple in structure, convenient in maintenance, durable in service, low in failure rate, no rotating parts and no need to add lubricating oil. When it is used for classification, the screening capacity can be changed by adjusting the sieve inclination angle. Single layer or double layer sieve plate can be configured. Stainless steel slit, stainless steel punching, polyurethane, wear-resistant plate punching and other types can be selected to meet the space requirements of users. After the vibrator is started, the amplitude can reach the stable value instantaneously. When it is stopped, its amplitude will disappear instantly, and it is allowed to start and stop directly under rated voltage, current and amplitude.
Leave Us A Comment Here
Please write down your requirement and contact details in the following form. You can also send a message to us by this sales@lyldkj.com, we will reply to you within 24 hours.