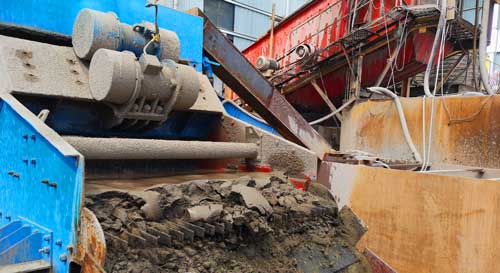 Silica sand is an important industrial mineral raw material. It is widely used in glass, casting, ceramics and fireproof materials, smelting ferrosilicon, metallurgical flux, metallurgy, construction, chemical industry, plastics, rubber, abrasive, filter materials and other industries.
The best machine for high pure silica sand processing is dewatering screen. Dewatering screen is a kind of equipment produced by ldhb for material dehydration, desliming and demineralization. It is used for water washing sand and can be used together with sand washing machine to carry out secondary cleaning and dewatering classification for finished sand washed by sand washing machine, so as to improve sand quality; it can also be used alone to clean sand with low mud content. Because of the advantages of low investment cost, good dehydration effect, long service life, low noise and small floor area, it is very popular in the market.
In the production of quartz sand, in order to improve the quality of sand, it is necessary to clean the quartz sand. The use of sand washing machine and other equipment has high investment cost, large floor area, high energy consumption and easy loss of fine sand. High pure silica sand processing with dewatering screen is not only occupies a small area, has low failure rate and energy consumption, but also has low investment cost, good cleaning effect and no easy loss of fine sand Dewatering screen has been widely used in quartz sand dewatering and classification, which is loved by customers.
Leave Us A Comment Here
Please write down your requirement and contact details in the following form. You can also send a message to us by this sales@lyldkj.com, we will reply to you within 24 hours.